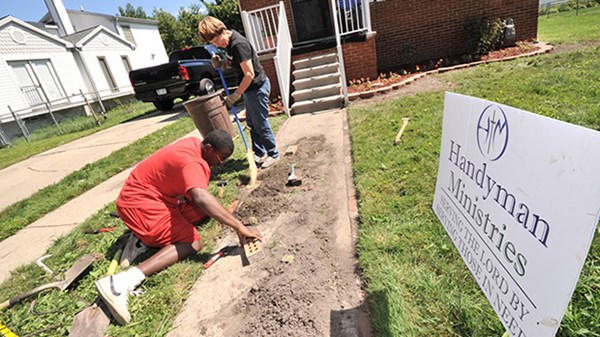 My Boss Is a Detroit Carpenter
Detroit native Timothy Addy says his Handyman Ministries provides a doorway into people's lives.
2.1.13
Around the time the U.S. economy turned sour and Detroit's automotive industry took a hit, Motor City resident Jeff Johnson lost his job with American Axle & Manufacturing after nearly 15 years at the auto-parts manufacturer.
Johnson took a severance package and tried to provide for his wife and three young children. But as he looked for a new job, the work on his family's home, including much of the kitchen, remained unfinished.
That is, until Detroit native Tim Addy learned of the Johnsons' needs in 2012. Addy and a crew of about 15 volunteer skilled tradesmen installed a new kitchen sink, hung new kitchen cabinets, laid tile, and repaired and reinforced the home's front and basement stairs, finishing the job by planting flowers in the front yard.
"[Last year] was the first year out of the four years we have been in our house where we were able to have Thanksgiving dinner," Johnson says. "Tim, through God, has been a blessing."
The Johnsons are one of more than 100 low-income families whose homes Addy and his team of volunteers, known as Handyman Ministries, repaired in 2012. Founded in 2009, the nonprofit is a practical response to the disrepair that's overwhelmed many Detroit streets—and ensures Detroiters can stay in their city in safety and relative comfort.
The latest figures Addy has seen on Detroit's abandoned homes range from 50,000 to 70,000 homes (a November 2012 New York Times report puts the number at 70,000). Declines in the automotive and housing industries, crime, fewer public services, and education inequalities are intertwined challenges that have led many residents to move, leaving behind homes and a smaller tax base to cover the public needs of a city of formerly 5 million.
"It's a snowball effect," says Addy, executive director of Handyman Ministries. "All of metro Detroit is affected by the blight. It does not stop at Detroit's borders, nor does the crime, financial desperation, or flight."
MORE FROM CHRISTIANITY TODAY