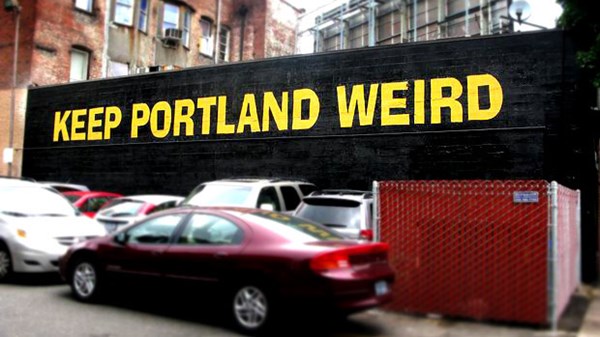 What the Gospel Means for Portland
What Christ might say to the City of Roses.
10.20.11
We've come a long way as evangelicals since the left-of-center Willamette Week's feature in 2004 titled, "The J Crew: Meet Portland's Evangelicals." The subhead read, "Portland's Christian soldiers may seem queer, but they're here. Get used to them." You'll find bumper stickers in town stating "Keep Portland Weird," and one of the weirdest things is the alliance in key quarters between a liberal city and conservative church. In some beautiful ways, many of us evangelicals have moved from indifference, wariness, and fear to a loving solidarity with the city.
Over the past several years, John M. Perkins has challenged a number of evangelicals in Portland—churches, nonprofits, pastoral and lay leaders, students, and others—to love our city, wondering if we really did so. Even in their laments and prophetic rebukes, the prophets of old like Jeremiah loved their city. While Portland is not Jerusalem, it has been affectionately referred to as Jesus' "favorite city." For one, there are the alliances between churches, Christian organizations, and City Hall on matters pertaining to the poor and homeless, among other issues. One might also draw attention more generally to what evangelicals would call creation care. With its bike-friendliness, farmers markets, and communal focus on sustainable living, Portland is one of the greenest cities in the world. That's a really good thing, and a good challenge to us as evangelicals, who have been relatively slow to engage this sphere of kingdom justice.
But although Portland is green, its central city is becoming increasingly white. This is an area of grave concern. Although some may wish to label this as simply an economic reality, race and class often track with one another in the United States as much today as in days past. While ethnic minority numbers are decreasing in the central city, this liberal town (including its churches) has never really been known for caring structurally for those of ethnic minority status. As one urban studies professor said about urban renewal in Portland, "For many African Americans, urban renewal equals Negro removal." This was and is the response of many in the black community, as city landmarks, stores, cafes, bistros, and art studios have arrived in the heart of predominantly black neighborhoods and business districts, including the Rose Quarter and Alberta Neighborhood. Regardless of how the rest of us might perceive it, that's the interpretation of many African Americans' experience.
If Christians want to love this city more, we must challenge it and ourselves in at least two ways. Indeed, the prophetic figures of old identified with the people even as they rebuked them, confessing their solidarity with the city and the nation's corporate sins (Ezra 9, Neh. 9, and Dan. 9).
First, we must not take ourselves too seriously. We have our own TV show, Portlandia. We may have wowed President Obama during his visit last fall. But do we wow King Jesus? God's love creates the attraction; our attractiveness does not create God's love or affection, said Martin Luther. So it is in Portland. God's kingdom does not come by doing good works (like Portlanders caring for the poor). Rather, we do good works because God's kingdom has come, said Karl Barth. "Blessed are the poor in spirit, for theirs is the kingdom of heaven," says Jesus (Matt. 5:3). Where spiritual bankruptcy occurs, there God's kingdom enters.
Remember: whereas the goats thought they had been serving Jesus when they stood before him at his judgment, the sheep had no idea they were caring for him by caring for the least (Matt. 25:31-46). Self-conscious admiration is never a good thing. We should keep serving and loving, but never take too seriously the good press. My friend USA Today columnist Tom Krattenmaker wrote a wonderful piece in 2009 on evangelicals' partnership with the city titled "Jesus' Favorite City." He ended by saying that non-evangelical Portland is becoming fascinated with what's happening here. But what about Jesus? While good press is good, we shouldn't take our good press too much to heart as Christians and Portlanders. For all the great work that has been done in Jesus' name here, there is yet much more to be done, and God alone accomplishes it for his kingdom in and through us.
So, what things are outstanding? This leads me to the second challenge. Building entrepreneurial partnerships for the common good in view of our uncommon God is good. But we have a long way to go in terms of moving beyond charity. We need to build community with the poor. Jesus loves us microbrew-drinking, gourmet-coffee-roasting, organic-food-eating yuppies and fixed gear-biking, skinny-jean-wearing hipsters. He loves everyone else, too. How intentional are we Christians and Portlanders in making sure everyone else has a place in Jesus' favorite city? We need to challenge Negro removal, and also identify more with women in their oppression and children sold to the highest bidder. Although liberal, Portland's seemingly not liberal or free enough to safeguard against human exploitation.
Will we allow ourselves to be exploited for the least's sake? We'll have to move beyond accessing the brightest and best "ideas for the common good" and live among brokenhearted lives. We need to enter into such solidarity with the marginalized, so that if they go down, we go down with them. As we identify with people broken by systemic evil heart to heart and life on life, they will teach us how great our own need for Jesus really is. The poor often sense their own need for God (Luke 6:20). "Blessed are the poor in spirit" of Matthew's gospel and "Blessed are the poor" in Luke's gospel must always be kept together.
What happens if we Christians challenge Portland in such ways, even while loving Portland? Certainly, we must continue to create space with our lives for the gospel to be heard. Still, what happens if we lose the city's favor? Will we continue loving this city, even if Portland ends up hating us for that sacrificial love?
Paul Louis Metzger is founder and director of The Institute for the Theology of Culture: New Wine, New Wineskins, and professor of theology and culture at Multnomah Biblical Seminary/Multnomah University, in the Montavilla neighborhood of Portland. One of his most recent works is The Gospel of John: When Love Comes to Town. He attends Imago Dei Community in the Buckman neighborhood of Portland, and lives across the river in Vancouver.
MORE FROM CHRISTIANITY TODAY