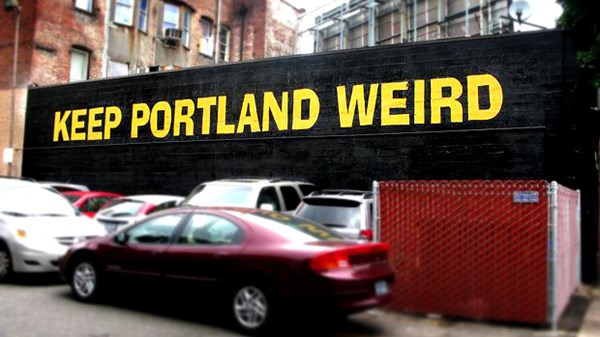 What the Gospel Means for Portland
What Christ might say to the City of Roses.
10.20.11
We've come a long way as evangelicals since the left-of-center Willamette Week's feature in 2004 titled, "The J Crew: Meet Portland's Evangelicals." The subhead read, "Portland's Christian soldiers may seem queer, but they're here. Get used to them." You'll find bumper stickers in town stating "Keep Portland Weird," and one of the weirdest things is the alliance in key quarters between a liberal city and conservative church. In some beautiful ways, many of us evangelicals have moved from indifference, wariness, and fear to a loving solidarity with the city.
Over the past several years, John M. Perkins has challenged a number of evangelicals in Portland—churches, nonprofits, pastoral and lay leaders, students, and others—to love our city, wondering if we really did so. Even in their laments and prophetic rebukes, the prophets of old like Jeremiah loved their city. While Portland is not Jerusalem, it has been affectionately referred to as Jesus' "favorite city." For one, there are the alliances between churches, Christian organizations, and City Hall on matters pertaining to the poor and homeless, among other issues. One might also draw attention more generally to what evangelicals would call creation care. With its bike-friendliness, farmers markets, and communal focus on sustainable living, Portland is one of the greenest cities in the world. That's a really good thing, and a good challenge to us as evangelicals, who have been relatively slow to engage this sphere of kingdom justice.
But although Portland is green, its central city is becoming increasingly white. This is an area of grave concern. Although some may wish to label this as simply an economic reality, race and class often track with one another in the United States as much today as in days past. While ethnic minority numbers are decreasing in the central city, this liberal town (including its churches) has never really been known for caring structurally for those of ethnic minority status. As one urban studies professor said about urban renewal in Portland, "For many African Americans, urban renewal equals Negro removal." This was and is the response of many in the black community, as city landmarks, stores, cafes, bistros, and art studios have arrived in the heart of predominantly black neighborhoods and business districts, including the Rose Quarter and Alberta Neighborhood. Regardless of how the rest of us might perceive it, that's the interpretation of many African Americans' experience.
MORE FROM CHRISTIANITY TODAY