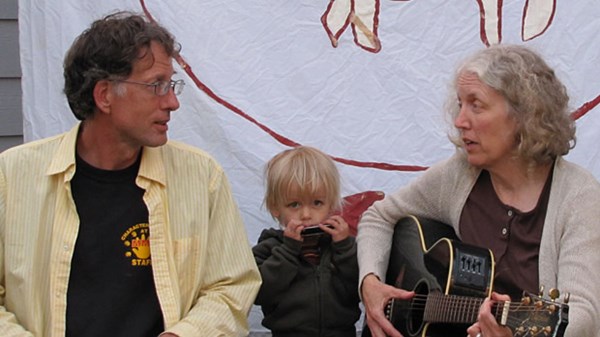 Where Portland Church Planters Fear to Tread
MaryLou and Rusty Bonham, founders of Springwater, commit to the forgotten Lents neighborhood.
11.10.11
Portland's #14 bus from downtown takes you through neighborhoods flooded with all the caricatures of my city that you've heard about: bicycle shops catering to car-free businessmen and soccer-moms, food cart lots brimming with PBR-guzzling hipsters, and finally the trendy Hawthorne arts district. This is the Portland lampooned on TV.
Hawthorne and other "corridors of cool" are also where you find most of the city's church-planters. In age and technological preferences, they're not too different from their non-Christian counterparts in Portland: mostly smartphone-savvy, denominationally financed white men in their 30s.
But if you stay on the #14, past the neighborhoods we love to show out-of-towners, you roll through less tweetable areas. The #14 lands in the dilapidated commercial core of Lents neighborhood, severed down its middle by a six-lane interstate. On the books, Lents' businesses are used RV lots, dive bars, and the odd taqueria. Off the books, it's prostitution and meth dealing. Lents has its bright spots, but in popular sentiment they tend to be eclipsed by its junkyards and junkies.
You don't find too many church planters out here. Better known as Felony Flats, Lents is as forgotten by City Hall as it has been by church-planting networks. Each, I suspect, is hungry to fund efforts in more marketable neighborhoods.
But at Lents' southern margins, some Christians have broken the mold. In 2007, MaryLou and Rusty Bonham, empty-nesters at 54 and 56, moved from Kansas into Lents to plant a church that would, in time, transform a neighborhood with the gospel. "Our hope was to settle in a neighborhood … where we could join with others to practice incarnational love, and discover how Jesus would use this place as our 'school of conversion' into faithful kingdom living,¨ says the silver-haired MaryLou, a full-time counselor. "That meant committing to this place and these people for the long haul."
But why Lents? "We wanted to go where the cops are afraid to go," said Rusty. It turned out there aren't many places like that in Portland, a city with gangs but few ghettos. "All the same," adds Rusty, "the Bible says we meet Jesus in the marginalized. And Lents is definitely marginalized! Hopefully we didn't have too much of a messiah complex in choosing this place."
MORE FROM CHRISTIANITY TODAY