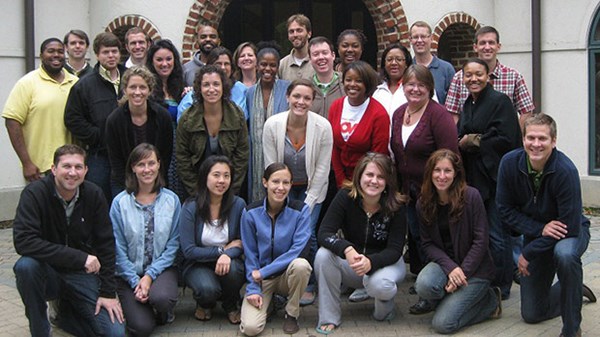 The Secret to City-Wide Culture Making
The qualities that have made the Richmond Christian Leadership Institute flourish in five years are key to any leadership program, anywhere.
5.30.12
A few years ago, I found myself in a room with more diversity, intelligence, and energy than I've experienced almost anywhere else. It was a spring Saturday morning in a suburb just west of Richmond, Virginia, and gathered in a meeting room of a pleasant nondenominational church was a group of about 50 people, most of them young adults, all of them keenly engaged in a series of sessions about faith and cultural responsibility. These students, instructors, and mentors for the Richmond Christian Leadership Institute (RCLI) were nearing the end of their ten-month-long immersion in the opportunities and challenges of cultural leadership in the city. The next month, they would be meeting again, this time in an inner-city African-American church. RCLI is a moveable feast.
Only five years old and limited to about 30 students per year, RCLI is already having an outsize influence on the city of Richmond, and on the Christian community there. Its influence hinges on its innovative approach to civic education. Its participants come from every sector of culture—primarily business, nonprofit organizations, and local government—and from a vast array of neighborhoods, churches (53 different churches have been represented by RCLI's 151 participants to date), and ethnic and racial backgrounds. What they share is a serious commitment to Christian discipleship, some demonstrated capacity for leadership, and a love of their city. And after ten months together, they have something else in common: an in-depth education in Richmond's history, culture, neighborhoods, government, and economy. They also have friendships with fellow emerging leaders they would never have met any other way.
RCLI's approach to training the next generation of civic, business, and church leaders is a good measure of the health of the Christian community in Richmond, and Christians' commitment to the health of their city. I believe RCLI, both in the details of its programs and the philosophy that has shaped its work, comes as close to a secret of Christian civic renewal as you're ever going to find. At least if a tremendously challenging, multifaceted effort based on decades of investment, learning, reflection, trial, and error counts as a "secret." It has several qualities that could be borrowed for culture-making efforts almost anywhere:
MORE FROM CHRISTIANITY TODAY