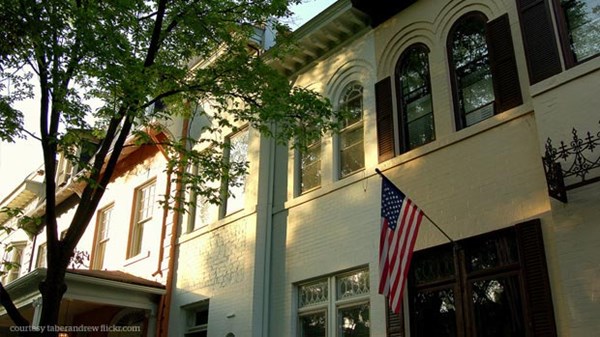 This Old City: A Christian's Dream of Renovating Richmond
Like the old mansions gracing my streets, Richmond itself finds its beauty in the very places it needs the most work.
3.29.12
My city of 30 years has spectacular architecture, from gracious antebellum mansions on tree-lined boulevards, to brownstones wedged onto cobblestoned streets, to tobacco warehouses-turned-lofts overlooking the James River. It's a magnet for young homeowners, who enthusiastically renovate these buildings so recently in decay.
Not long ago, I met a young professional new to Richmond who told me she'd just bought a new house. Leah lovingly described the winding oak banisters, tin ceilings, stained glass windows, pocket doors, pilasters, and hardwood floors. And she offered a lover's smiling grace in detailing her house's quirks—its sagging floors, slanted windows, pocked marble, and chipped stoop.
I asked her how she liked Richmond, and she reluctantly allowed that her transition has been hard. She noted the complicated traditions and social patterns, the unspoken ins and outs, and the incessant reminders of "how we do things here." It reminded me of 1998 (recent history, mind you), when the city hosted the presidential debate, and former anchorman Tom Brokaw referred to Richmond as "a hotbed of social rest." Fair enough.
Richmond oozes history. This city figured prominently in the Revolutionary War and the Civil War. Most of my young friends live in Church Hill, where Patrick Henry made his "Give me liberty or give me death" speech. It seems we have more battlegrounds than Starbucks. Two U.S. Presidents are buried here.
On a more sinister note, tens of thousands of slaves were shipped from the Atlantic up the James River to be auctioned in downtown Richmond, where Lumpkin's Slave Jail with its slave market was a pillar of the local economy. As recently as the 1960s and '70s, our not-so-penitent leaders, including many Christians, perfected "massive resistance" as they defied government-ordered school desegregation.
As I talked to Leah, though, I sensed an irony. I asked her, "Is it possible that, just like you expect your house's defects and quirks will eventually make it a more interesting and beautiful home, couldn't we Richmonders expect that our city's complications and baggage will eventually make it a more beautiful future city? Just as old houses are sometimes advertised as a 'carpenter's dream,' couldn't we view cities like Richmond as a 'Christian's dream'?"
MORE FROM CHRISTIANITY TODAY