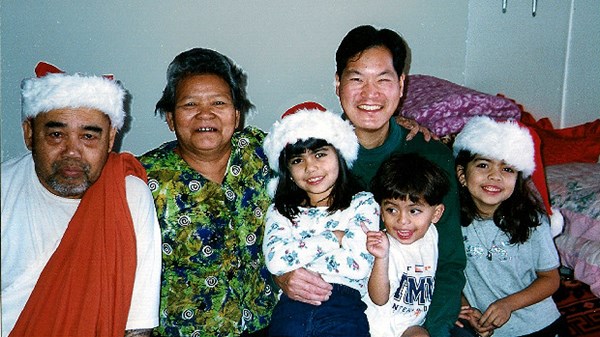 Image: Photo courtesy of Russell Jeung
Saved by My Refugee Neighbors
How a group of Asian immigrants took a privileged, wandering guy into their family and embraced me.
6.17.13
Editor's Note: Russell Jeung, a fifth-generation Chinese Californian, is an unlikely resident of the Oak Park Apartments in Oakland, a low-income community of Central and Southeast Asian immigrants. With degrees from Stanford and UC-Berkeley, Jeung arrived at the apartments 20 years ago to study Asian youth gangs for a master's in sociology. What happened next changed him and his family, who helped found New Hope Covenant Church to serve Oak Park residents. Jeung tells that story below.
I recently wrote out my bucket list. It included all the things I wanted to accomplish by my birthday. One item was to run a trail race. Calling myself an "ultramarathoner" sounded cool, so I persisted. Eventually, even though I looked like Frodo climbing to Mordor, I completed the run. Despite coming in third from last and having some really old runners beat me, I was pleased with myself.
The next day, my wife, Joan, met with some refugees from Bhutan. She proudly told Tek, who saw how stiffly I moved, that I had just completed a long race.
"Ah," Tek intoned quietly. "I know what it is like, to run through mountains."
Immediately I felt chastened. I had run through the scenic Marin Headlands. He had run crossing the storming Himalayas. I wore Asics gel shoes with biomorphic material for forefoot flexibility. He had home-sewn sandals. I traveled lightly because volunteers provided electrolyte drinks and energy bars every five miles. He traveled lightly, carrying all his possessions. I ran in retreat from my world to add to my bucket of experiences. He ran for his life.
I should have realized that my personal bucket list was vainglory. Fortunately, my neighbors—refugees from Cambodia, Laos, Bhutan, and Burma—daily instruct of me of how I should live, as an exile in this world.
Embraced, Not Entitled
Twenty years ago I moved into an apartment with Dan Schmitz, an urban missionary in Oakland, California. It felt like I had entered a developing country. Oak Park Apartments was a Cambodian village in an American ghetto. Chickens ran free-range. Squatting, bare-footed kids played with sticks in the dirt. Grandmas hung their washed sarongs alongside sausages air-drying in fly netting. Surrounding our ethnic village was an urban jungle. We lived in the "Murder Dubz," the most robbed neighborhood in a city known as the nation's robbery capital.
MORE FROM CHRISTIANITY TODAY