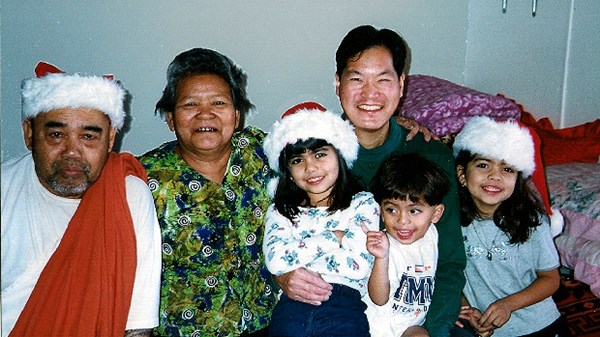 Image: Photo courtesy of Russell Jeung
Saved by My Refugee Neighbors
How a group of Asian immigrants took a privileged, wandering guy into their family and embraced me.
6.17.13
Editor's Note: Russell Jeung, a fifth-generation Chinese Californian, is an unlikely resident of the Oak Park Apartments in Oakland, a low-income community of Central and Southeast Asian immigrants. With degrees from Stanford and UC-Berkeley, Jeung arrived at the apartments 20 years ago to study Asian youth gangs for a master's in sociology. What happened next changed him and his family, who helped found New Hope Covenant Church to serve Oak Park residents. Jeung tells that story below.
I recently wrote out my bucket list. It included all the things I wanted to accomplish by my birthday. One item was to run a trail race. Calling myself an "ultramarathoner" sounded cool, so I persisted. Eventually, even though I looked like Frodo climbing to Mordor, I completed the run. Despite coming in third from last and having some really old runners beat me, I was pleased with myself.
The next day, my wife, Joan, met with some refugees from Bhutan. She proudly told Tek, who saw how stiffly I moved, that I had just completed a long race.
"Ah," Tek intoned quietly. "I know what it is like, to run through mountains."
Immediately I felt chastened. I had run through the scenic Marin Headlands. He had run crossing the storming Himalayas. I wore Asics gel shoes with biomorphic material for forefoot flexibility. He had home-sewn sandals. I traveled lightly because volunteers provided electrolyte drinks and energy bars every five miles. He traveled lightly, carrying all his possessions. I ran in retreat from my world to add to my bucket of experiences. He ran for his life.
I should have realized that my personal bucket list was vainglory. Fortunately, my neighbors—refugees from Cambodia, Laos, Bhutan, and Burma—daily instruct of me of how I should live, as an exile in this world.
Embraced, Not Entitled
Twenty years ago I moved into an apartment with Dan Schmitz, an urban missionary in Oakland, California. It felt like I had entered a developing country. Oak Park Apartments was a Cambodian village in an American ghetto. Chickens ran free-range. Squatting, bare-footed kids played with sticks in the dirt. Grandmas hung their washed sarongs alongside sausages air-drying in fly netting. Surrounding our ethnic village was an urban jungle. We lived in the "Murder Dubz," the most robbed neighborhood in a city known as the nation's robbery capital.
Unlike my neighbors, I was like the rich young ruler who ran to Jesus boldly asking for more. I had come from attending Stanford University and working for the Mayor of San Francisco, so I felt entitled to getting things done and having my way. Yet, while these places gave me a glimpse into the kingdoms of the world, Oak Park presented me with a foretaste of the kingdom of God.
At Oak Park, the first thing visitors usually notice are the kids. They spilled out everywhere—in the trees, on the rooftop, in the parking lot, and mostly in the complex's huge courtyard. They'd scamper across the courtyard in small herds. Often bored, they would barge into our apartment looking for anything to do.
For my own amusement, I would see what I could make them do. I had groups of children selling Jello to their neighbors, so they took to a variety of marketing strategies. They even put up a sign in our window, "We take food stamps." In running the enterprise, they kept the profits but also tithed to a common pot, which we called "God's Money."
One of the kids, Veasina Thang, described the Oak Park community of her childhood: "We knew we didn't have much, but we had each other. We had fun. We had life!" That life together was intense and full, even when much of what we did cost nothing.
We would go to the beach and afterwards enjoy bagel dogs, leftovers obtained from the factory. When Sizzler's had "Kids eat free" nights, a vanload of children and I would celebrate each person who had a birthday that month.
We would go to Costco and enjoy their samples as a no-cost lunch. Once, the sample lady asked our bedraggled group of Cambodian and Latino children where their parents were. Maria, one of the Latina girls, pointed to me, the Chinese guy. When the lady eyed the seven of us quizzically, Maria answered, "You should see the rest of us at home!" and we promptly headed to the next food stand.
In my darkest moments, when kids were shot or our apartment burglarized, the kids were my solace. I recall feeling morose one grey, wintry day and taking some children to a redwood forest nearby. As we hiked, the girls linked arms with me and chatted about nothing in particular. Suddenly, we came across clumps of ladybugs, tens of thousands swarming. We stood transfixed, gaping at the colony's red brilliance against a log. It was my burning bush, informing me that we were in a sacred space. To this day, I cannot recall what made me depressed. But I won't forget how God's beauty shook me from my self-focus, or how his children led me there by the hand.
When I finished my schooling, I received a few tenure-track job offers from high-ranking universities. But the offers weren't tempting; I chose to remain with those I loved.
Oak Park kids didn't know and didn't care where I had gone to college or what I had accomplished. Instead, they embraced me and their friendship kept me in Oakland for 20 years. When I finished my schooling, I received a few tenure-track job offers from high-ranking universities. But the offers weren't tempting; I chose to remain with those I loved.
Recently, Veasina's great-grandmother passed away. When I came to pay my respects, Veasina handed me a bottle of water, laid her hand on my shoulder, and gently shared, "Grandma would've wanted you to have this." At that, I broke down.
You see, Asians demonstrate their love through food. Whenever I would visit, Veasina's grandmother would say with her few English words, "Russell, you eat!" and hand me a bagel dog. She didn't have to hug me or say anything; instead, I ate up her abiding concern and provisional care. Likewise, when Veasina handed me the water, she was pouring out love—that of her grandmother and her own—in a time of grief.
When I was a stranger and new to Oakland, the Oak Park children invited me in. When I was hungry, they fed me bagel dogs. When I was thirsty, they offered me drink. For 20 years, this community of refugees took a privileged, wandering guy into their family and embraced me. Although I was used to earning what I got, here I didn't have to do a thing.
Faithfulness Over Effectiveness
While it's tempting to romanticize the kids and our communal life at Oak Park, the city's violence born of inequality and structural racism has worn on me. Over 2,000 individuals have been murdered during my time in Oakland, and I have witnessed my share of shootings. Even when we organized our neighbors and won a housing lawsuit that rebuilt Oak Park, the new apartment layout unintentionally eroded our sense of community. I had to move because of federal rental guidelines, and the families preferred to remain inside their enlarged units.
When the issues of Oakland seem too daunting, I retreat and focus on my personal life, where I have some semblance of control. After leaving Oak Park, my wife and I purchased a home two blocks away, and we built gates to protect us from the city's dangers. But fortunately, our refugee neighbors continue to knock at our door to teach us kingdom values. When we got our house, I borrowed a rototiller and cleared weeds in our huge yard. After an afternoon of hard toil, I gave up; all I had readied was a small plot 5' by 10'.
The next day, I was surprised by a small, turbaned lady sitting up in our apricot tree, like Zaccheus. Yien Saelee, a grandmother who is Iu Mien, was hacking branches. She had seen that the lot was empty and came to start a garden with my permission. I agreed, but doubted her strength to do the work. To my surprise, she returned with two other grandmothers, each armed with only a small machete, and cleared the entire yard. They planted the Native American Three Sisters—corn, squash, and beans—and soon my family received locally grown, organic vegetables to meet our daily required vitamins.
Yien later joined our church's "Young Family" cell, which paradoxically came to include five grandmothers. As we shared and prayed together, I learned more of her story. During the Laotian Civil War, she had lost three sons—child soldiers fighting with the CIA—and her husband was assassinated. Moving to our Oakland neighborhood as a refugee did not make her life much easier; she remained poor and constantly felt fatigued.
After being resettled in Oakland, Yien became a Christian when God revealed himself in a dream to her. Since then, she claims, "My heart is light now because I no longer have to bear the burden of the spiritual world; it was too heavy." Not only did she pray for us and support her own local Mien church, she also regularly taped gospel songs to be sent to Laos.
In spite of their advanced years, Yien and her fellow grandmas collect aluminum cans and hawk their produce to supplement their scant disability benefits that were almost cut by welfare reform. Her sense of social justice isn't about asserting her rights, but about taking responsibility for others. Always chipping in for our water bill, she states simply, "I'm happy for the opportunity not to starve."
When my father passed away, Yien, her back bent from osteoporosis, took the time to stand with my family in our grief. Despite our communication and cultural barriers, her unceasing prayers and faithful presence comforted me.
Growing up with privilege, I expected to make my mark and to effect social change in Oakland. Unfortunately, our neighborhood has not been transformed despite our church's best efforts. If anything, its persistent poverty reflects the growing inequality in our nation. Yien models for me another way to make one's mark. The servant who is faithful is the one who enters the joy of the master. The persistent widow who prays boldly is the one who receives justice.
I am too used to having my way, too oriented toward my own bucket list. However, as Peter instructed, I am to live as a foreigner and exile in this world. Just as Daniel sought to be undefiled by Nebuchadnezzar's power and riches, I am to be holy through simplicity and generosity. Like Nehemiah when he rebuilt Jerusalem's walls, I am to be set apart by prayers, solidarity with the poor, and concern for the common good. Along with these biblical models of exiles, Ephesians reminds me we have members in our household, children and grandmas, who show us how to be citizens of heaven.
In solidarity with fellow exiles Tek, Veasina, and Yien, I am coming to know what it is like, to run through mountains. It is journey of exile, but it is also a pilgrimage towards compassion, community, and faith.
Russell Jeung is assistant professor of Asian American studies at San Francisco State University, and author of Faithful Generations: Race and New Asian American Churches. He is writing a spiritual memoir about urban ministry and can be reached at rjeung@sfsu.edu.
MORE FROM CHRISTIANITY TODAY