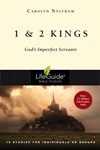 1 & 2 Kings: God's Imperfect Servants
10 Session Bible Study
Overview
In this 10-session study, you will examine the history Israel and Judah's kings, gleaning important lessons about leadership and faithfulness.
Introduction
Getting the Most Out of 1 & 2 Kings
This section introduces the topic, explains the structure followed in each study, and offers tips for those approaching the study on their own as well as those participating in a group.
Session One
Solomon: Praying with God's Values
Solomon's prayer in 1 Kings 3:6–9 reveals a lot about his mindset during this stage of his life, giving us a glimpse into his attitude toward himself, his job, and God.
1 Kings 3
Session Two
Solomon: Faithless in Love
Though he'd initially sought a life of godly wisdom, Solomon was negatively impacted by his wealth and power, disobeying God's regulations and marrying women who served other gods.
1 Kings 11
Session Three
Jeroboam and Rehoboam
In this passage, we see the outbreak of war in Israel. It was not only a war of politics—it was also, at least at the outset, a war of faith.
1 Kings 12
Session Four
Ahab
There are many paths by which we can become deaf to God. Ahab's life (and death) warns us against such a route.
1 Kings 22:1–40
Session Five
Ahaz
When Judah and Israel went to war, King Ahaz sought help in the wrong place.
2 Kings 16
Session Six
Hoshea
King Hoshea was Israel's last king, ruling until the nation was conquered by Assyria. Israel's defeat was tied to God's punishment for their idolatry and unfaithfulness.
2 Kings 17
Session Seven
Hezekiah
As he faced danger, threats, and taunts, Hezekiah, king of Judah, turned to God in prayer.
2 Kings 19:9–20:21
Session Eight
Manasseh
Manasseh, Hezekiah's son, did not follow in his father's footsteps. Under his rule, the nation returned to idolatry and the worship of false gods.
2 Kings 21:1–26
Session Nine
Josiah
Josiah, Manasseh's grandson, began his rule at eight years old. He instituted spiritual reforms, seeking to honor God's laws.
2 Kings 22:1–23:30
Session Ten
Zedekiah
King Zedekiah's did evil in the eyes of the Lord and under his rule, Jerusalem fell to the Babylonians.
2 Kings 24:1–25:21
Total number of pages: 68
Carolyn Nystrom has written more than eighty books, Bible study guides, and children's titles. In addition to actively serving in her church, she has been a foster parent, an elementary school teacher, the stated clerk of her Evangelical Presbyterian Church presbytery, and a book editor.
1 & 2 Kings: God's Imperfect Servants