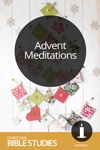 Advent Meditations
Rediscover the joy of Advent with these meditations
Multi Session Bible Study
Overview
Introduction
What's It All About?
by JoHannah Reardon
Leader's Guide
How to use this resource for a group study.
The Gift
God's plan for the world unfolds in the first few pages of the New Testament.
by Dave DeLuca
Christmas Is for Those Who Hate It Most
Because the manger is the most hopeful place in the universe.
by Matt B. Redmond
Imagination at Christmas
Because we do not get to see, smell, taste, or touch the events of the gospel story, we must imagine it.
by Brad and JoHannah Reardon
I'll Be Home for Christmas
Someone may be waiting for us to reach out to them this Christmas.
by Lee Dean
The Light of Christmas
Lights are a hallmark of this holiday, but they will not ultimately illuminate our hearts.
by Stan Guthrie
A Christmas To-Do List
These are the real priorities this season.
by Mark Mitchell
Total number of pages - 27 pages
Advent Meditations
SmallGroups.com offers a diverse set of adaptable training tools for small group models that can be customized to a church's unique needs.
14-Day Free Trial
Get complete access free for 14 days.
Featured Training Tools:

Connect People into Small Groups
Theological Discussions for Everyone