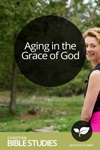 Aging in the Grace of God
How to embrace the last third of life as time to grow near to God and fulfill his purposes
10 Session Bible Study
Many adults feel left behind or out of control in their later years, exhausted from years of holding tightly to deep wounds and fast-paced living. In addition, these adults still face new challenges like health problems, changing family situations, or death of peers and loved ones. Seniors confront mortality in a way that younger generations need not. Is aging just a bunch of bad news? Absolutely not!
This ten-session Bible study course will encourage you to share your unique story and answered prayers with others. It will also show you how to use this time to grow closer to God by practicing deepening quiet and contemplation, readying yourself for the new and unexpected vision he may impart. It reminds you that keeping eternity in view helps us to accept tough transitions with serenity. Remember, this is not a time to merely exist, but a time to grow and bloom, aging in grace. God is with you every step of the way.
Session One
Help, I'm Growing Old
This is the beginning of a new adventure.
Psalm 71; Romans 8:28–29, 35–39
Session Two
In the Potter's Hands
God uses people and experiences to shape us.
Genesis 37:3–4; 1 Samuel 1:21–28; 2:12–17; Psalm 139:13–16
Session Three
Called by God
Create a mission statement for the latter third of life.
Exodus 4:1–17
Session Four
Becoming Vulnerable
Aging brings with it many changes that require emotional and mental adaptation—but our loving God is in control.
Esther 2:1–9; 4; Ruth 1:1–17
Session Five
Lessons from the Wilderness
We need to welcome change as from God's hand and by his grace.
Exodus 16; 18; Numbers 13:1–2, 26–33; 14:20–24
Session Six
Like the Grass that Withers
How can we live fearless lives that are committed to the gospel right up until the end?
Psalm 103; 1 Corinthians 15
Session Seven
Heaven is God's Dwelling Place
"I am going there to prepare a place for you … " (John 14:2–3)
Isaiah 65:17–25; John 14:1–7; 2 Peter 1:3–11; Revelation 21–22:
Session Eight
Forgive and Reconcile
"Forgive one another as I have forgiven you."
2 Samuel 13:1–22, 36–39; 14:13–14; Luke 15:11–32; John 21:1–17
Session Nine
Tell the Story
Moses commanded Israel to make sure that their children knew the story of their journey of faith.
Deuteronomy 6:4–25; Titus 2:1–8
Session Ten
Nearer My God to Thee
The third stage of adulthood loosens our grip on earthly attachments, moving us into a deeper friendship with God.
1 Kings 19:11–18; Psalm 4; 27; 92; Matthew 6:1–21; Luke 10:38–42
Total number of pages - 96 pages
Aging in the Grace of God
SmallGroups.com offers a diverse set of adaptable training tools for small group models that can be customized to a church's unique needs.
14-Day Free Trial
Get complete access free for 14 days.
Featured Training Tools:

Connect People into Small Groups
A la carte price:
Theological Discussions for Everyone
A la carte price: