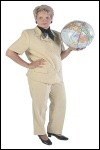 Becoming Visionary
Learn how to serve as an effective leader in your church.
Single Session Bible Study
Overview
While the insight, energy, and out-of-the-box thinking of visionary leaders motivate and inspire us, their accomplishments leave us believing that leadership is open to natural visionaries only. Not so, says church leader Kevin Miller and his wife Karen, "You can develop a vision even if you're not a visionary." In this study, Kevin offers six practical ways for "non-visionaries" to be effective leaders in the church.
Table of Contents
SCRIPTURE: Exodus 3:10–14; 4:1–5, 10–14; 1 Kings 3:5–10; Nehemiah 1:1–11; 2:1–5; Matthew 20:25–28; Acts 6:1–7; Titus 1:5–9; 2:11–15
LEADER'S GUIDE
• Identify the Current Issue
• Discover the Eternal Principles
–Teaching point one: Leaders build on the vision already in place.
–Teaching point two: : Leaders embrace the challenge and let God establish the vision.
–Teaching point three: Leaders enable others to help create and define the vision.
–Teaching point four: Leaders listen.
–Teaching point five: Leaders ask "What if–
–Teaching point six: : Leaders act on their ideas.
• Apply Your Findings
• Recommended Resources
ARTICLE FROM CHRISTIANITY TODAY
• "Developing a Vision When You're Not a Visionary" by Kevin Miller
(GiftedforLeadership.com, March 20, 2007)
Total number of pages – 12
Becoming Visionary