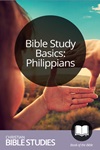 Bible Study Basics: Philippians
Instructions on living a life united with Christ
7 Session Bible Study
In our world, people are pretty obsessed with themselves. But Paul says that Christ-followers must life a different way: a life of humility. First of all, Paul reminds us that we must think highly of others and rejoice in our relationships. Second, he reminds us that above all, we are to be united with Christ, aligning our will with his. As we take on Christ's mindset of humility, we will begin to see life and death as gain—not because we are glorified, but because Christ is.
This Bible Study Basics study can be done in any number of sessions you'd like, with the ideal number being 5-7 sessions. It includes excellent discussion questions for the text, fun icebreakers and activities to engage group members, clear application points, great tips on leading discussion, and information on how to make the study work for all levels of spiritual maturity.
Included in each Bible Study Basics:
How to Use Bible Study Basics
A clear guide on customizing this study for your group
Lead a Great Discussion
Excellent quick tips on facilitating well
Engage Everyone in Your Group
Learn how to make this study work for all spiritual maturity levels
Overview of the book of the Bible
A quick reference to what you'll find as you study
Included in Bible Study Basics: Philippians:
Each chapter is broken down into main themes including A Life Worthy of the Gospel, Have the Mindset of Christ, Do Everything Without Grumbling, Following Paul's Example, and more.
Each theme includes:
Start It Out activities and icebreakers to engage your group members with the theme
Talk It Out questions that you can choose from to lead a fruitful discussion
Live It Out application points to help your group members apply what they've learned
Total number of pages - 27
Bible Study Basics: Philippians