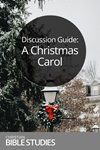 Discussion Guide: Disney's A Christmas Carol
Dickens' classic tale of gaining the world, while losing one's soul, but scarier and in 3-D.
Single Session Bible Study
Overview

Film versions of Charles Dickens' classic Christmas ghost tale,written in 1843, started appearing in 1908. Since then, Scrooge has been played by everyone from Alastair Sim to Albert Finney,from Bill Murray to Mr. Magoo. Do we need another one? Apparently. And this time featuring a 3-D animated Jim Carrey. This Disney version may be the scariest of them all, but we still resonate with this story of greed, second chances, and conversion.

This guide will help walk you through some of the themes found in Disney's A Christmas Carol, like judgment, repentance, and "the Christmas spirit."
Discussion Guide

• Movie Summary

• Discussing the Scenes
—Judgment
(Luke 9:23-27)
—Repentance
(Luke 19:1-10)
—The Christmas Spirit
(Luke 2:8-20)
• As the Credits Roll
Based On

Disney's A Christmas Carol (Disney, 2009), rated PG.

Photo © Copyright Disney
Discussion Guide: Disney's A Christmas Carol
SmallGroups.com offers a diverse set of adaptable training tools for small group models that can be customized to a church's unique needs.
14-Day Free Trial
Get complete access free for 14 days.
Featured Training Tools:

Connect People into Small Groups
A la carte price:
Theological Discussions for Everyone
A la carte price: