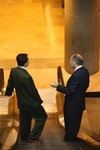 Engaging Atheism
Exploring the key elements of belief, faith, and the goodness of God
For as long as human beings have been alive on planet Earth, we have attempted to forge a connection with something beyond our experience and understanding—something divine. Consequently, we have worshiped, we have served, we have sacrificed, and we have obeyed. And so the most important question a Christian can grapple with is, Has it all been a waste of time?
With the help of expertly produced content from Listen Up TV, this course will help your group properly engage that question.
Session 1
Is God Real?
Exploring the most important question for humanity
Genesis 1:1-2
Video length: 24 minutes
Session 2
Is Faith Foolish?
Taking a closer look at the decision to believe
John 3:1-21
Video length: 27 minutes
Session 3
Is God Good?
And if he is good, is he responsible for everything on Earth that's bad?
Habakkuk 3:16-19
Video length: 23 minutes
Session 4
What About My Doubts?
Surprising insights from the journal of Mother Teresa
Psalm 22:1-31
Video length: 24 minutes
Total number of pages: 26
Engaging Atheism
SmallGroups.com offers a diverse set of adaptable training tools for small group models that can be customized to a church's unique needs.
14-Day Free Trial
Get complete access free for 14 days.
Featured Training Tools:

Connect People into Small Groups
A la carte price:
Theological Discussions for Everyone
A la carte price: