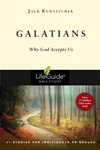 Galatians
This 11-session Bible study will help you understand that God fully accepts you.
11 Session Bible Study
Overview
These 11 Bible studies by Jack Kuhatschek lead you into Paul's letter to the Galatians where you will discover the true source of acceptance—Jesus Christ—and what your acceptance in God's eyes means for your daily life.
Introduction
Getting the Most Out of Galatians
This section introduces the topic, explains the structure followed in each study and offers tips for those approaching the study on their own as well as those participating in a group.
Session One
Good & Bad News
The word apostle means "one who is sent." Paul specifies that he is sent by God, not people, in verse 1. How might the way we present the gospel be different if we were seeking the approval of people instead of God?
Galatians 1:1–10
Session Two
Why Believe the Gospel?
Paul refused to give in to false teachers on the matter of circumcision "so that the truth of the gospel might remain with you." How do you show your concern to preserve the gospel?
Galatians 1:11–2:10
Session Three
Accepting Others
To justify is a legal term meaning the person on trial is declared not guilty and deserves all the privileges of one who has not broken the law. How might justification by faith lead some to claim that "Christ promotes sin"?
Galatians 2:11–21
Session Four
Why God Accepts Us
How can a vivid understanding of Christ's crucifixion guard us from thinking we must earn God's favor? How does the gift of the Spirit affirm that God accepts us completely in Christ?
Galatians 3:1–14
Session Five
Ambassadors for Christ
Why do you think Paul would tell the Corinthians, who are already Christians, "Be reconciled to God"?
2 Corinthians 5:11–6:13
Session Six
Exposing Our Needs
What evidence do you see in the media that "the whole world is a prisoner of sin"?
Galatians 3:15–29
Session Seven
Do-It-Yourself Religion
Paul states that just as Ishmael persecuted Isaac, so too those born the ordinary way still persecute those born by the power of the Spirit. How have you seen this to be true, even in your own life?
Galatians 4:21–5:1
Session Eight
Severe Warning
Paul's warning probably surprised the Galatians. They knew faith in Christ was necessary for their salvation; they simply wondered whether it was sufficient. Why does any attempt to earn God's acceptance destroy justification by faith?
Galatians 5:2–12
Session Nine
Living by the Spirit
Paul assumes that even though all Christians live by the Spirit, we do not always keep in step with the Spirit. In what ways do you struggle to keep in step with the Spirit?
Galatians 5:13–26
Session Ten
The Law of Love
The sins or burdens of others can lead us to feel superior. How can proper methods of self-examination correct this attitude?
Galatians 6:1–10
Session Eleven
Getting Motivated
The cross was regarded with horror as an instrument of criminal death in Paul's day, yet it was Paul's ground for boasting! What does it mean to boast in the cross?
Galatians 6:11–18

Leader's Guide
This section includes information on preparing and leading studies, components of small groups, selected discussion questions, and background notes and suggestions for each study.
Total number of pages - 65 pages
Jack Kuhatschek is executive vice president and publisher for Baker Publishing Group, Grand Rapids, Michigan. He is the author of many Bible study guides and the books Applying the Bible and The Superman Syndrome.
Galatians