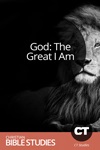 God: The Great I Am
Nothing is more important to our faith than knowing who God is.
6 Session Bible Study
This 6-session study will help you and your group explore the nature of God's character. Examine questions like: How well do you know him? How well does he know you? Is God fair?
Week One
Knowing God through His Names
What God invites us to call him says volumes about his relationship to us.
Week Two
Has God Played Fair?
Why did an omniscient God create humankind knowing that people in every generation would reject him?
Week Three
A Better Look at God's Face
The Trinity helps us connect the dots and outline the face of God eternal.
Week Four
Fear and Friendship: Two Sides of Worship
How do we balance intimacy and awe?
Week Five
Does God Know Your Next Move?
God's freedom, our freedom, and spiritual confidence in a changing world.
Week Six
When God Says No
Making sense of unanswered prayer
Total number of pages—66
God: The Great I Am
SmallGroups.com offers a diverse set of adaptable training tools for small group models that can be customized to a church's unique needs.
14-Day Free Trial
Get complete access free for 14 days.
Featured Training Tools:

Connect People into Small Groups
A la carte price:
Theological Discussions for Everyone
A la carte price: