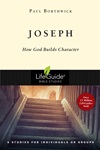 Joseph: How God Builds Character
Discover the principles that led Joseph's life.
9 Session Bible Study
Overview
Despite being sold into slavery and imprisoned on false accusations, Joseph found ways to live in forgiveness and hope. These 9 studies open his story to you, showing you the principles at work in Joseph's life.
Introduction
Getting the Most Out of Joseph
This section introduces the topic, explains the structure followed in each study and offers tips for those approaching the study on their own as well as those participating in a group.
Session One
Building on Damaged Foundations
Imagine gowing up in Joseph's family. What interpersonal dynamics can you most identify with from your own family?
Genesis 29:14-30:24; 37:1-4
Session Two
Dreams, Visions and Discretion
How would you have reacted if you were one of the brothers hearing Joseph's dream?
Genesis 37:5-11
Session Three
Leaving Your Dream with God
Imagine the emotions of Joseph as he goes from his father's favorite son with big dreams to being sold as a slave to ending up on the slave crew of Potiphar in Egypt. What would you have been praying to God during these days?
Genesis 37:12-36
Session Four
Sexual Purity: When All Else Fails—Run!
Imagine yourself in Joseph's position. Why might you be tempted to think that saying yes to Potiphar's wife could be a good thing?
Genesis 39:6-20
Session Five
The Integrity of a Servant
"The pit" plays a big part in Joseph's life. What role does the "pit" play in character development?
Genesis 39:1-6, 20-23
Session Six
Discernment
Why are we sometimes hesitant to offer the bold discernment of Joseph when we're interpreting things like dreams, world events or even personal experiences?
Genesis 40:1-41:32
Session Seven
Long-Range Planning
What can you learn from Joseph's model about how to work for a pagan boss?
Genesis 41:33-57
Session Eight
Forgiveness and Release
How would you feel to know that all of your suffering was ultimately not just allowed by God but designed by him?
Genesis 42; 45:1-15; 50:15-21
Session Nine
Perseverance
What do you think kept Joseph going through all of the years of abandonment, betrayal and forgotten dreams? What character traits do you need to be working on or asking God for now that will help you stay faithful over the years?
Acts 7:9-16; selections from Genesis 37-50
Total number of pages—63 pages
Paul Borthwick is senior consultant for Development Associates International and teaches missions at Gordon College in Wenham, Massachusetts. Through his speaking, writing and resource ministry, he mobilizes others to participate in world missions. He is the author of A Mind for Missions (NavPress), How to Be a World-Class Christian (Authentic Media), Six Dangerous Questions (IVP) and the LifeGuide® Bible Study Missions.
Joseph: How God Builds Character