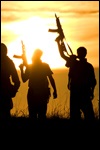 Living in an Age of Terroism
What we can learn from Oswald Chambers and C. S. Lewis about the long battle with terrorism.
Single Session Bible Study
Overview
Although we, as Christians, know that wars will only cease when the Prince of Peace comes, we must "if it is possible, as far as it depends on [us], live at peace with everyone" (Romans 12:18). Those who have lived long enough to see many wars also know the high cost of peace we've enjoyed. Now once again, we find ourselves fighting an enemy-this time, a worldwide network of terrorists intent on causing our complete destruction.
We know that, indeed, "There is a time for everything, and a season for every activity under heaven:…a time for war and a time for peace" (Ecclesiastes 3:1, 8b). But knowing that doesn't make living through a time of war easy.
In this time of war, God calls us to another kind of "time" as well-a time to think and live as citizens of heaven.
Table of Contents
LEADER'S GUIDE
• Identify the Current Issue
• Discover the Eternal Principles
—Teaching point one: Terrorism forces us to think about our attitudes toward war.
—Teaching point two: War is a time to fear God alone.
• Apply Your Findings
HANDOUT FOR FURTHER STUDY
ARTICLE FROM CHRISTIANITY TODAY
• Wisdom in a Time of War, by J. I. Packer (January 7, 2002)
Total number of pages—11
Living in an Age of Terroism
SmallGroups.com offers a diverse set of adaptable training tools for small group models that can be customized to a church's unique needs.
14-Day Free Trial
Get complete access free for 14 days.
Featured Training Tools:

Connect People into Small Groups
A la carte price:
Theological Discussions for Everyone
A la carte price: