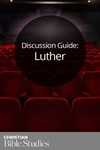 Luther
The real-life story of the monk who sparked the Reformation and changed western civilization.
Single Session Bible Study
Overview
Luther tells the true story of a German monk stricken with guilt and fear of God, and never certain of his salvation. When he studies the Scriptures he discovers the true grace of God in Christ, but it is a truth that his church teaching contradicts. The church in Europe holds the faithful in a grip of fear and ignorance, demanding acts of penitence (and money) in exchange for redemption from hell. Martin Luther cannot tolerate the corruption of the gospel, so he sets out to reform the church. He cannot foresee the turbulent changes he will set in motion.
This study guide will help you discuss some of the major themes of Luther. What is the truth about hell? How should people know the Word of God? What is the true path of salvation?
Discussion Guide
• Movie Summary
• Discussing the Scenes
—Hell
(Mark 9:43–48; Luke 12:4–7; 16:19–31; John 3:16–18;Revelation 20:7–15; Romans 3:23; 6:23; Revelation 20–21)
—Relics
(Exodus 20:4–6; Leviticus 26:1; Isaiah 44:9–20)
—Scripture
(2 Timothy 3:16–17; Hebrews 4:12–13)
—Salvation
(Romans 3:22; 2 Corinthians 5:21; Acts 4:12; Romans 6:23;Ephesians 2:8–9; Mark 1:15; Acts 2:38–39)
• As the Credits Roll
Based On
Luther (NFP teleart, 2003), directed by Eric Till, rated PG-13.
Photo © Copyright NFP teleart
Total number of pages—
Luther