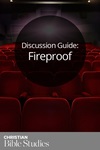 Fireproof
Caleb and Kat's marriage is headed for divorce until Caleb's father steps in with a unique plan for rebuilding it.
Single Session Bible Study
Fireproof
SmallGroups.com offers a diverse set of adaptable training tools for small group models that can be customized to a church's unique needs.
14-Day Free Trial
Get complete access free for 14 days.
Featured Training Tools:

Connect People into Small Groups
A la carte price:
Theological Discussions for Everyone
A la carte price: