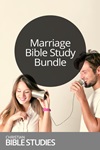 Marriage Bible Study Bundle
Learn to seek God together as you grow in love and commitment.
13 Session Bible Study
Marriage is full of opportunities for joy and pain. Learning to love each other well and glorify God through your relationship with your spouse is a challenge worth taking on each day. But we can't expect to face the challenge on our own and win. Taking time to study what the Bible has to say about money, communication, sex, and more will help husbands and wives form a strong foundation and grow. When you seek God together, he will provide you with the love and support you need to have a healthy marriage.
In this special pack, you'll receive three studies that cover a total of 13 sessions:
Marriage is a Partnership (6-session study)
Whether you're a newlywed or you've been married for 20 years, there are always areas of your relationship with your spouse that need attention and hard work. This six-session study offers practical, biblical perspectives on money, communication, sex, and more to help couples grow in their relationship with God.
Communication in Marriage (6-session study)
Communication problems are as old as Adam and Eve. In this six-session Bible study, we will explore what the Bible has to say about the obstacles and solutions to communication, how to communicate love to our spouses, how to avoid miscommunication, how to stop hurtful words, the importance of compromise, and finally how grace toward one another is the key to getting along.
Seeking God Together (Single session study)
When two people marry, they declare their love and commitment in front of friends, family, and God. Many factors determine whether a marriage will be a strong one. The wise couple will not leave God at the altar but will invite him into their lives. God watches and waits, eager to respond to hearts that call to him and seek him together.
Total number of pages - 135
You have permission to make up to 1,000 copies of this resource within your local church.
Marriage Bible Study Bundle