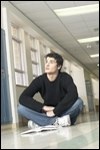 Preparing for Life After High School
You've graduated…now what?
7 Session Bible Study
Do you know someone nearing the end of their high school career? If so, you know that there are many decisions right around the corner. Help them prepare with this Bible study course intended to focus on issues such as new friendships, spiritual growth, and a healthy lifestyle.
This 7-session course will help teens discuss questions on how to prepare for life after high schoolm such as: What's exciting about life after high school? What makes you nervous? What would be the result of treating the Bible like a buffet from which you could pick and choose truths, versus accepting the whole as God's Word? Whom do you look to as a model of belief? Have you ever met or known a Christian who gave Christianity a bad reputation?
Session One
Rediscovering God
How to experience God the way he intended it.
Session Two
New Friendships
Experience life with frienships that matter.
Session Three
Romantic Relationships
How to receive and give love the way God intended.
Session Four
Tell Your Story
How to recognize and share your story effectively
Session Five
A Healthy Body
Unlike a human gadget, your body was designed by God!
Session Six
Calling and Purpose
Living a life that points upward and beyond you
Session Seven
Rest and Relaxation
Embrace God's command to enjoy the Sabbath through fellowship and himself.
Total number of pages—104
Preparing for Life After High School