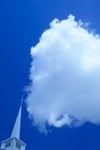 Preparing for Worship
Preparing your mind and heart for worship begins at home.
Single Session Bible Study
Overview
This study explores the process of preparing spiritually, mentally, and physically for worship, so the worshiper is fully invested in the experience and ready to offer his or her heart wholly to God.
Table of Contents
SCRIPTURE: 1 Chronicles 28:9; Psalm 24:1–6; 32:1–5; 34:1–3; Romans 12:1–2; 1 Timothy 4:7–15
LEADER'S GUIDE
• Identify the Current Issue
• Discover the Eternal Principles
—Teaching point one: Worship begins with spiritual preparation.
—Teaching point two: Worship deepens with mental preparation.
—Teaching point three: Worship awakens with physical preparation.
• Apply Your Findings
ARTICLE FROM LEADERSHIP JOURNAL
• Can You Engage Both Heart and Mind?, by John Ortberg and Pam Howell (April 1999)
Total number of pages—
Preparing for Worship
SmallGroups.com offers a diverse set of adaptable training tools for small group models that can be customized to a church's unique needs.
14-Day Free Trial
Get complete access free for 14 days.
Featured Training Tools:

Connect People into Small Groups
A la carte price:
Theological Discussions for Everyone
A la carte price: