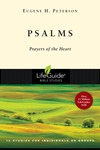 Psalms: Prayers of the Heart
Pour out your heart to God.
12 Session Bible Study
Overview
Twelve inductive Bible studies show you how to pray your heart to God—doubts, fears, anger, praise, remorse, thankfulness.
Introduction
Getting the Most Out of Psalms
This section introduces the topic, explains the structure followed in each study and offers tips for those approaching the study on their own as well as those participating in a group.
Session One
Praying Our Inattention
What thoughts and concerns distract you when you begin to pray? Psalm 1 shows you how to focus on your conversation with God.
Psalm 1
Session Two
Praying Our Intimidation
What use is prayer in the face of governments, armies and millionaires? Psalm 2 reveals that God is at work in the world just as He is at work in your heart.
Psalm 2
Session Three
Praying Our Trouble
When you realize you can't help yourself, you instinctively reach out to God. Psalm 3 recognizes that prayer is essential to our spiritual and physical well-being.
Psalm 3
Session Four
Praying Our Creation
Pray orients you; it allows God to tell you where you are, who you are and whose you are. Psalm 8 helps you to find your way by focusing first on God.
Psalm 8
Session Five
Praying Our Sin
How honest are you with God about your sins? Psalm 51 shows you how to pray to get to the truth about yourself and to find out how God will deal with you.
Psalm 51
Session Six
Praying Our Salvation
What God has done for us far exceeds anything we deserve or hope. Psalm 103 describes the experience of salvation—how does it feel to you?
Psalm 103
Session Seven
Praying Our Fear
What do you fear? Why? Psalm 23 identifies fear and faces it—and affirms God's presence in the midst of it.
Psalm 23
Session Eight
Praying Our Hate
Can God handle your feelings of hate? Psalm 137 shows that you can't fool God if you want to grow close to him; you must pray who you actually are, not who you think you should be.
Psalm 137
Session Nine
Praying Our Tears
Are your tears self-indulgent? Or does holding back tears disconnect you from needed emotions? Psalm 6 invites you to join your sorrows with God's to discover both the source of and a relief from your sadness.
Psalm 6
Session Ten
Praying Our Doubt
Doubt is essential to belief. Psalm 73 shows how expressing your doubts to God can allow him to remind you of his presence and promises.
Psalm 73
Session Eleven
Praying Our Death
How have you been affected by death? How have you prepared for it? Psalm 90 offers a "road map" for you as it has for generations of Christians.
Psalm 90
Session Twelve
Praying Our Praise
All prayer, pursued far enough, finally becomes praise. Psalm 150 offers an example of prayer that recognizes all things transformed in God's presence.
Psalm 150
Total number of pages—64 pages
Eugene H. Peterson is the translator of The Message as well as author of A Long Obedience in the Same Direction and Run with the Horses.
Psalms: Prayers of the Heart