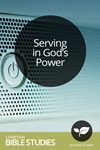 Serving in God's Power
God can accomplish great things through us when we are submitted to his purpose.
Single Session Bible Study
Overview
Do you have a vision for your ministry? Are you struggling to fulfill that vision in your own strength and with your own abilities? Have you given up on a vision you once had? Are you overwhelmed with the enormity of your leadership responsibilities?
Women in leadership are capable people. We have talents and abilities, and are often natural leaders. Yet in order to fulfill what God has planned for our lives, we must submit to his way of doing things. We need to slow down so that we can listen, trust, prepare, and wait for God. Only then will we see the divine fulfillment of the dreams he has placed in our hearts.
Table of Contents
SCRIPTURE: Genesis 13:14–18; Joshua 1:1–9; Matthew 28:16–20
LEADER'S GUIDE
• Identify the Current Issue
• Discover the Eternal Principles
—Teaching point one: Our vision is a part of God's all-encompassing vision for the church.
—Teaching point two: : Our dedication to the process of the dream will determine our future and long-term success in the kingdom of God.
—Teaching point three: Envision your dream and walk it out through faith in God and his ability to work through you.
• Apply Your Findings
• Recommended Resources
ARTICLE FROM CHRISTIANITY TODAY
• "Fulfilling God-Sized Dreams" by Anita Carman
(GiftedforLeadership.com, February 20, 2007)
Total number of pages—
Serving in God's Power