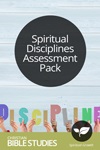 Spiritual Disciplines Assessment Pack
Help your group (and yourself) evaluate your practice of the spiritual disciplines.
6 Session Bible Study
OVERVIEW
This pack features 7 quality assessment tools to help you and those you may be leading to see how you are doing in your walk with God. These handouts will help you overcome barriers to practicing the spiritual disciplines. You'll see where to prioritize so that God can more powerfully work in you.
Leader's Guide
How to use "Spiritual Disciplines Assessment Pack" for a group study.
Your Walk with God
Ten key questions for assessing our devotional life.
by Kevin Miller
Excusing Our Time with God
Evaluating the four factors that determine all we do.
by Richard P. Hansen with David Wall
Balancing the Demands
Do you need to find time for quiet solitude?
by Kirk Bryon Jones
Family Priorities
How to rightly value your family.
by Ben Patterson
Are You Emotionally Depleted?
Determine if you need to recharge your emotional reserves.
by Bill Hybels
Conducting a Spiritual Audit
Here's how to find the line between legitimate and illegitimate accountability.
by Fred Smith
Total number of pages—20
Spiritual Disciplines Assessment Pack
SmallGroups.com offers a diverse set of adaptable training tools for small group models that can be customized to a church's unique needs.
14-Day Free Trial
Get complete access free for 14 days.
Featured Training Tools:

Connect People into Small Groups
A la carte price:
Theological Discussions for Everyone
A la carte price: