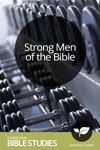 Strong Men of the Bible
Six biblical men of integrity
6 Session Bible Study
Whether an "everyman" like Jacob or a man of supernatural strength like Samson, the Bible tells the story of many men used especially by God. This six-session Bible study will use Scripture lessons and stories to teach you about themes like obedience, equality, humility, fear, suffering, and more. This study includes leader's guides, optional activities, and profiles on each character from the Men of Integrity Devotional Bible (Tyndale, 2002).
Session 1
Wrestling God
Jacob: The man who was hard to bless.
Session 2
Strong Arm, Weak Will
Samson: His triumphs pale against tragic choices.
Session 3
The Purpose-Driven Prophet
Jeremiah found strength through a tender heart of faith.
Session 4
An Uncommon Obedience
Matthew: Sacrificial choices that changed the world
Session 5
Meeting the Challenge
Philip: A man who reached across racial barriers.
Session 6
A Man of Character
Timothy: A man who modeled his teacher.
Strong Men of the Bible
SmallGroups.com offers a diverse set of adaptable training tools for small group models that can be customized to a church's unique needs.
14-Day Free Trial
Get complete access free for 14 days.
Featured Training Tools:

Connect People into Small Groups
Theological Discussions for Everyone