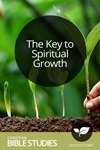 The Key to Spiritual Growth
Relationships can unlock the deeper parts of us and direct us to authentic spiritual development.
Single Session Bible Study
Overview
The evangelical church specializes in some spiritual disciplines: systematic reading of Scripture, devotional reading, regular attendance at preaching-oriented worship services. Those things are all important in a believer's spiritual growth. But Christian psychologist Larry Crabb says what's missing is relationships.
Crabb focuses on the importance of relationships in personal spiritual formation, particularly the relationship with a spiritual director, who looks deeply into our lives and asks us piercing questions. That's the way to healing the hurt places in the soul, Crabb says. What does that kind of spiritual direction look like? What happens in the relationship? We'll explore that issue in this study.
Table of Contents
SCRIPTURE: Proverbs 20:5; Matthew 23:25–27; John 4:1–26; Hebrews 4:12
LEADER'S GUIDE
• Identify the Current Issue
• Discover the Eternal Principles
—Teaching point one: The foundations of spiritual direction should be biblical and relational.
—Teaching point two: Sometimes the process of spiritual direction is confrontational.
—Teaching point three: We often need help recognizing the Holy Spirit's work in our souls.
• Apply Your Findings
ARTICLE FROM CHRISTIANITY TODAY
• The Shrink Gets Stretched, by Agnieszka Tennant (May 2003, Page 52, 21 printed pages)
Total number of pages—
The Key to Spiritual Growth
SmallGroups.com offers a diverse set of adaptable training tools for small group models that can be customized to a church's unique needs.
14-Day Free Trial
Get complete access free for 14 days.
Featured Training Tools:

Connect People into Small Groups
Theological Discussions for Everyone