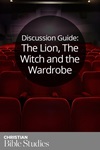 The Lion, The Witch and The Wardrobe
Walt Disney Pictures' special-effects-filled adaptation of C. S. Lewis's classic fantasy about four British children who step through a magical wardrobe into the land of Narnia.
Single Session Bible Study
Overview
Lewis's story is a tale rich with metaphors that reflect our sinful failures and God's endeavors to save us from the consequences. This study will explore the ways in which the adventures of the four Pevensie children in Narnia illustrate humankind's corruption and sinful behavior, the role of conscience, the power of trust, the value of forgiveness, and the way that Christ's sacrifice and resurrection liberates us from death's curse.
Discussion Guide
• Movie Summary
• Discussing the Scenes *Bonus Material: Scenes to Watch*
—Bitter disputes and division stem from arrogance and selfishness.
(Proverbs 20:3; Hebrews 12:14–15; James 1:19–20; 3:13–18)
—If we realize we are sinning, we should listen to our conscience, repent, and draw near to God. Otherwise, we might become enslaved to evil.
(Romans 7:21–25; 2 Corinthians 11:14–15; James 4:7–10)
—The devil comes in appealing disguises, with attractive lies. Be vigilant and steadfast in your resistance.
(Genesis 3:1–24; Jeremiah 17:5–9; John 8:44; Romans 3:9–18, 23; 1 Corinthians 10:12–13, 23–24; 2 Corinthians 11:3; Ephesians 2:1–3; Ephesians 6:12; James 1:13–18; 1 Peter 5:8–9)
—When we repent of our sins, Christ will forgive us, and we need not fear the condemnation we deserve.
(Matthew 20:25–28; 28:1–10; John 20:11–18; Romans 6:20–23; 8:1–11; Hebrews 9:11–15; 1 John 3:8)
—Satan is the "prince and power of the air" and has been given dominion over the earth, but God is the ruler of all creation.
(Matthew 8:23–27; 27:51–55; Luke 23:44–46; Revelation 21)
• As the Credits Roll
Based On
The Lion, the Witch and the Wardrobe (Walt Disney Pictures and Walden Films, 2005), directed by Andrew Adamson, rated PG.
Photo © Copyright Walt Disney Pictures and Walden Films
Total number of pages—
The Lion, The Witch and The Wardrobe