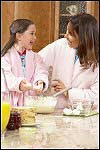 Time for Me
Finding time for self is difficult, yet necessary.
Single Session Bible Study
Overview
We know it's important to find time for the things we enjoy; yet so much of single parenting is more duty than delight. We love our children, and we sacrifice everything for them—even our emotional health. The job, the family, the constant pressure of paying bills—all these things can drain us of the desire for a more creative life. Then one day, we blow up at the kids and wonder why.
Recreation is good for the soul. As we learn how to relax and recreate, we benefit. Playtime for Mom or Dad is also good for their children. But first, we have to examine ourselves and find out why we don't take time for fun.
Are we ignoring our emotional health out of fear or guilt? Do we have the attitude that we are the only ones who can meet every need for our child? Have we decided to become lifelong victims? These are some of the ideas we'll look at in this study.
Table of Contents
SCRIPTURE: Psalm 27; 71; Ezekiel 36:23–36; Ephesians 4:26–32
LEADER'S GUIDE
• Identify the Current Issue
• Discover the Eternal Principles
—Teaching point one: Discover the root.
—Teaching point two: Fun begins with baby steps.
—Teaching point three: Move from surviving to thriving.
• Apply Your Findings
• Additional Resources
ARTICLE FROM CHRISTIAN PARENTING TODAY
•"Time for Myself", by Barbara Schiller (2 printed pages)
Total number of pages—10
Time for Me
Add to Cart
SmallGroups.com offers a diverse set of adaptable training tools for small group models that can be customized to a church's unique needs.
14-Day Free Trial
Get complete access free for 14 days.
Featured Training Tools:

Connect People into Small Groups
Theological Discussions for Everyone