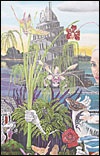 Truth in Fantasy
What can we learn of God's goodness through these popular sci-fi movies?
4 Session Bible Study
Science Fiction and Fantasy movies have exploded in the last few years. What can we learn of God's goodness through these popular and entertaining movies?
Session 1
Lord of the Rings Trilogy
We must decide what to do with the time we are given.
Session 2
The Lion, The Witch and The Wardrobe
Walt Disney Pictures' special-effects-filled adaptation of C. S. Lewis's classic fantasy about four British children who step through a magical wardrobe into the land of Narnia.
Session 3
Star Wars Saga
The Star Wars saga consists of two space fantasy trilogies that together tell the epic rise, fall, and redemption of Darth Vader.
Session 4
Harry Potter and the Prisoner of Azkaban
What does this film say about the relationships between magic and science, prophecy and free will, authority and rebellion, anger and mercy, and darkness and light?
Truth in Fantasy
SmallGroups.com offers a diverse set of adaptable training tools for small group models that can be customized to a church's unique needs.
14-Day Free Trial
Get complete access free for 14 days.
Featured Training Tools:

Connect People into Small Groups
A la carte price:
Theological Discussions for Everyone
A la carte price: