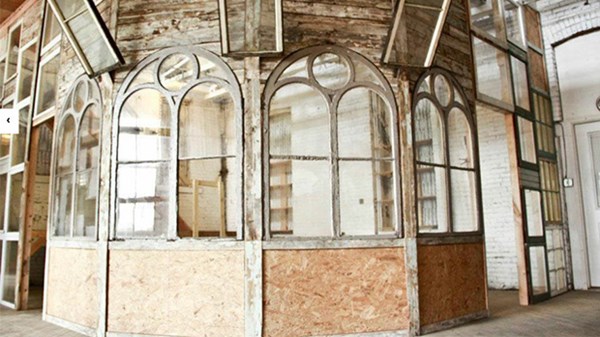 In Philadelphia, a Pastor Turned Business Owner and Accidental Arts Patron
How Paul Stone revived one factory and opened it to his neighbors.
7.5.12
"It's not like I get up every morning and think, I'm going to change the world," says Paul Stone, owner of Emerald Windows. A small manufacturing business in the North Central neighborhood of Philadelphia, where Stone has seen drug deals—and occasional gun violence—from his office window, over two years Emerald has become the creative space for more than 40 artists and artists' groups in northeast Philadelphia.
Stone didn't set out to be a business owner. He and his wife, Kym, were living in the Bridesburg neighborhood of Philadelphia. Kym was teaching in the public schools, and Paul was subcontracting for the owners of Emerald while pastoring a small, struggling church in the neighborhood. When the factory was damaged in a fire in 2002, the owners came to Stone. They wanted to get out of the business, and they wanted him to take over.
They gave the factory to Stone, who built a temporary office out of plywood to sell windows while he renovated the factory, most of which was either empty or filled with trash—a heap of 50 bathroom sinks filling one room, piles of wood paneling another. It took nine months to re-wire the electricity and build a usable office, but eventually he restored the factory to the point that they were manufacturing again, with 40 employees producing 20,000 new windows a year for use throughout the Philadelphia area.
Today, Emerald no longer manufactures ("it's not profitable unless you're making 100,000 or more windows annually," explains Paul), focusing instead on installations (mostly residential) and wholesale distribution to contractors. Meanwhile, Stone, 36, has partnered with a number of government organizations to put windows in the houses of people with low incomes. The Department of Energy, for example, helps fund the Philadelphia Housing Development Corporation, which pays Emerald to weatherize houses for energy efficiency; the Philadelphia Corporation for Aging does the same for elderly citizens.
"Those projects are not profitable," says Stone. "They pay the overhead and cover operational costs, but [Emerald] doesn't make a profit." Why does he do it, then? I thought it was because he has a sense of social responsibility to the elderly and low-income citizens of Philadelphia, and that's part of it, but Stone is just as concerned about the people inside his factory.
"In the construction world, it's rare to find full-time work. We promise our employees at least 40 hours a week, and projects like that help ensure that happens."
Over the years, Stone has employed people who recently served time in prison and struggle with serious addictions. There have been times, Stone says, when an employee has disappeared with hundreds of dollars' worth of tools.
"I'll give them their job back, and take a little from each paycheck in payment for what they've stolen. Some people think we give too many second chances. But some have been the recipients of that, and they're grateful." Recently, Emerald has begun participating in a program that offers three months of job placement for recently released prisoners; Stone hopes to expand their involvement by hiring more ex-cons.
Other serendipitous arrangements have helped the young bi-vocational pastor from Montana sustain a decaying urban factory, including hosting cell phone towers, which have paid the bills through rocky times. Then there's Window Factory Arts. More than 40 artists currently have studio space in the factory, and they are building new studios continuously. My brother-in-law is an unlikely patron to the arts—I don't know that he's ever visited an art museum willingly—but when Temple University's Tyler School of Art moved nearby, artists began drifting into the factory neighborhood, looking for studio space.
"An artist who lives a block and a half away comes in one day and says, 'You have all this space. Could we make a studio?' So we began building spaces—out of old windows and doors and paneling that I'd have had to pay to dispose of. And as fast as we build them, we lease them. There's enormous interest." Three Emerald employees work full-time on building, maintaining, and leasing the 40 studios. Stone's resourceful DIY design strikes the artists as cool and conducive to their own creativity; one of the very first artists to set up a studio, Sibylle-Maria Pfaffenbichler, told me at a gallery show that she, like all the self-styled "window factory artists," loves the creative energy the factory space provides.
As far as Stone knows, none of the artists claim Christian faith. "But they really follow the Golden Rule. And it seems like it comes from being artists. They create with others in mind." Recently, they organized to use the building for a fundraiser for a local teen who sells bottled water to help support his family, and Stone has just hired a young man who lives around the corner and who has finished high school with no plans for college.
"It's been a little bit of a rocky start, but he wants to work. And we'll give him that chance. "I can't say if we're 'improving our city,' " Stone tells me, "but we keep our corner of it clean. We help it look nice. And we can see that the neighborhood notices. Little by little, it's changing. You see people—young female students from Temple—walking around in this neighborhood without fear. We didn't see that before."
"Paul is so good to us," says Pfaffenbichler. "This space, it is so alive. In his own way, he is a creative."
Rachel Marie Stone, a regular contributor to Her.meneutics, is the author of the forthcoming Eat with Joy (IVP, 2013) and blogs at RachelMarieStone.com.
MORE FROM CHRISTIANITY TODAY