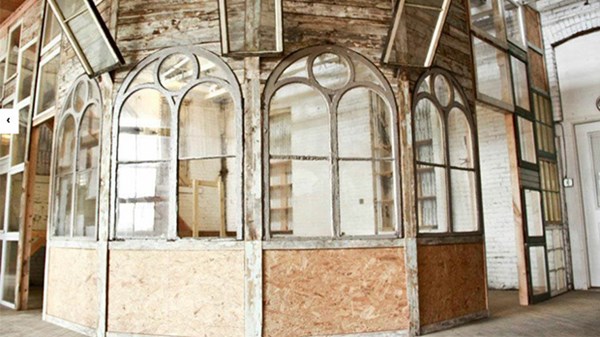 In Philadelphia, a Pastor Turned Business Owner and Accidental Arts Patron
How Paul Stone revived one factory and opened it to his neighbors.
7.5.12
"In the construction world, it's rare to find full-time work. We promise our employees at least 40 hours a week, and projects like that help ensure that happens."
Over the years, Stone has employed people who recently served time in prison and struggle with serious addictions. There have been times, Stone says, when an employee has disappeared with hundreds of dollars' worth of tools.
"I'll give them their job back, and take a little from each paycheck in payment for what they've stolen. Some people think we give too many second chances. But some have been the recipients of that, and they're grateful." Recently, Emerald has begun participating in a program that offers three months of job placement for recently released prisoners; Stone hopes to expand their involvement by hiring more ex-cons.
Other serendipitous arrangements have helped the young bi-vocational pastor from Montana sustain a decaying urban factory, including hosting cell phone towers, which have paid the bills through rocky times. Then there's Window Factory Arts. More than 40 artists currently have studio space in the factory, and they are building new studios continuously. My brother-in-law is an unlikely patron to the arts—I don't know that he's ever visited an art museum willingly—but when Temple University's Tyler School of Art moved nearby, artists began drifting into the factory neighborhood, looking for studio space.
"An artist who lives a block and a half away comes in one day and says, 'You have all this space. Could we make a studio?' So we began building spaces—out of old windows and doors and paneling that I'd have had to pay to dispose of. And as fast as we build them, we lease them. There's enormous interest." Three Emerald employees work full-time on building, maintaining, and leasing the 40 studios. Stone's resourceful DIY design strikes the artists as cool and conducive to their own creativity; one of the very first artists to set up a studio, Sibylle-Maria Pfaffenbichler, told me at a gallery show that she, like all the self-styled "window factory artists," loves the creative energy the factory space provides.
MORE FROM CHRISTIANITY TODAY