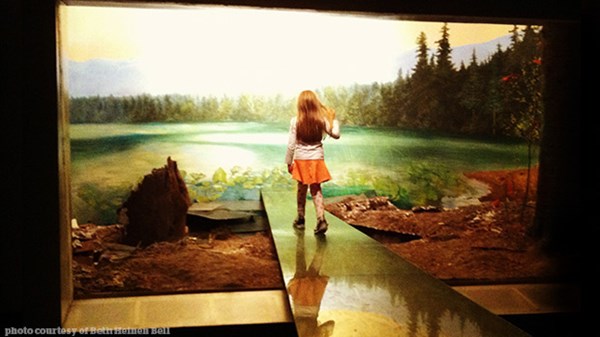 The Community Curator: How ArtPrize Is Changing Grand Rapids
The annual competition founded by Rick DeVos transforms the city's core—and how residents are engaging the visual arts.
10.3.12
An old, greying building sits at the center of Grand Rapids, Michigan, at the corner of the two streets that divide the city into north and south, east and west. Abandoned in the late 1990s, the building's modern-era space-age look has long made it the eyesore of downtown.
That is, until an event called ArtPrize opened its doors—and the doors of nearly every building in downtown Grand Rapids for a three-week event that brings over 500,000 visitors to the streets of the Rust Belt city each fall. Now in its fourth year, ArtPrize makes streets that are usually bustling only during business hours and Taylor Swift concerts teem with crowds of young and old, rich and poor, teens and stroller-pushing couples alike.
ArtPrize is an annual, 19-day competition that bestows the world's largest monetary award for a work of art. Its organizers call it "a radically open art competition, part arts festival, part social experiment." It alters the typical formula used in judging art competitions by allowing the public to vote for the pieces of art it considers worthy of prizes, ranging from $7,000 to $200,000. The competition itself has few rules—some deadlines, specifications for how artists interact with exhibition centers, and geographical boundaries.
This year, 161 ArtPrize venues are displaying 1,517 pieces of artwork within a three-square-mile area encompassing downtown Grand Rapids. After 10 days of public voting, 10 pieces will move to the next round, while artwork not in the top 10 remains on display throughout the event. The public will then spend five days voting on the top 10. In 2011, the controversial top 10 pieces included a large, colorful mosaic displayed on the side of a school, a wood carving depicting ocean creatures, a live statue (street performer), and the winner, a stained glass piece depicting the Crucifixion.
To Rick DeVos, the founder of ArtPrize and a Christian, the $200,000 public vote prize (and other prizes totaling $560,000) is just a part of what makes the event work. "From the beginning, the ArtPrize award has been the catalyst and tool by which we make this conversation come to life," he said. "What's exciting is that this conversation has led to countless individual experiences, each driving us to collectively say, 'Let's do that again.' "
MORE FROM CHRISTIANITY TODAY