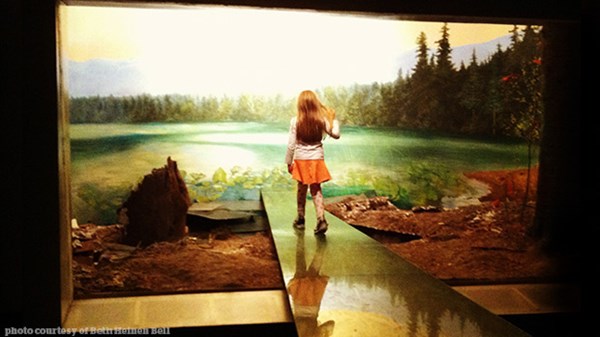 The Community Curator: How ArtPrize Is Changing Grand Rapids
The annual competition founded by Rick DeVos transforms the city's core—and how residents are engaging the visual arts.
10.3.12
An old, greying building sits at the center of Grand Rapids, Michigan, at the corner of the two streets that divide the city into north and south, east and west. Abandoned in the late 1990s, the building's modern-era space-age look has long made it the eyesore of downtown.
That is, until an event called ArtPrize opened its doors—and the doors of nearly every building in downtown Grand Rapids for a three-week event that brings over 500,000 visitors to the streets of the Rust Belt city each fall. Now in its fourth year, ArtPrize makes streets that are usually bustling only during business hours and Taylor Swift concerts teem with crowds of young and old, rich and poor, teens and stroller-pushing couples alike.
ArtPrize is an annual, 19-day competition that bestows the world's largest monetary award for a work of art. Its organizers call it "a radically open art competition, part arts festival, part social experiment." It alters the typical formula used in judging art competitions by allowing the public to vote for the pieces of art it considers worthy of prizes, ranging from $7,000 to $200,000. The competition itself has few rules—some deadlines, specifications for how artists interact with exhibition centers, and geographical boundaries.
This year, 161 ArtPrize venues are displaying 1,517 pieces of artwork within a three-square-mile area encompassing downtown Grand Rapids. After 10 days of public voting, 10 pieces will move to the next round, while artwork not in the top 10 remains on display throughout the event. The public will then spend five days voting on the top 10. In 2011, the controversial top 10 pieces included a large, colorful mosaic displayed on the side of a school, a wood carving depicting ocean creatures, a live statue (street performer), and the winner, a stained glass piece depicting the Crucifixion.
To Rick DeVos, the founder of ArtPrize and a Christian, the $200,000 public vote prize (and other prizes totaling $560,000) is just a part of what makes the event work. "From the beginning, the ArtPrize award has been the catalyst and tool by which we make this conversation come to life," he said. "What's exciting is that this conversation has led to countless individual experiences, each driving us to collectively say, 'Let's do that again.' "
Indeed, ArtPrize is built on individuals taking part in every aspect of the event and collectively pulling it off. Todd Herring, ArtPrize's communications director, says it takes "complete engagement from our region" to make the event happen. This means everyone from the artists to the volunteers who help visitors navigate the city to the visitors who show up and vote.
Steve Fridsma, venue coordinator for Monroe Community Church (MCC), appreciates the way ArtPrize creates a simple system for participating in the event. "The genius of ArtPrize is that it puts the effort on the venues and the artists—it basically creates a framework that people can opt in or out of."
Fridsma has opted in to the event, which for him means logging over 100 volunteer hours, because of how it benefits his church. "It's an opportunity to showcase our church, but also to be an agent of grace by the artwork we host and the stories they tell." MCC has participated as a venue for four years. Each year, members of the small congregation provide hospitality to traveling artists and visitors.
Artists like Brian Whitfield, whose work has been displayed at MCC every year. He's compelled to participate because of the community he finds at his venue. "It's a lot of money that you can possibly win, but once you . . . realize the possibility of actually making the top 10 is very difficult, it becomes all about the community."
Ryan Spencer Reed, a photojournalist, participates in ArtPrize for his own reasons. In 2010 and 2011, his exhibits of documentary-style photos have ranked high in the public vote, but come short of earning him a spot in the top ten. The Calvin College graduate sees ArtPrize as a place to try his pieces out on the public. "ArtPrize is really unprecedented in that it's a great opportunity to vet a new body of work. It taps into a very broad community across all demographics."
Reed typically exhibits his work, meditations on the theme "the hubris of empire," at universities where he takes advantage of the educational context to create conversation around issues such as genocide in Sudan. At ArtPrize, he can't assume that the public viewing his art knows anything about the political turmoil in Sudan over the past decade. Because of this, he stood next to his piece, "The Cost of Silence," nearly every day during ArtPrize 2011 to answer questions.
This kind of conversation between artist and viewer is what DeVos hoped ArtPrize would foster, but it depends on the public doing more than simply looking at the art. During ArtPrize 2011, local and national media reported on the debate about whether the public was pulling its weight in this regard. Local art curator Joseph Becherer voiced his concern in The Grand Rapids Press that the public, in its choice for this year's top 10, had failed to engage high-quality, meaningful art with its votes. Instead, he said, it had chosen "tootsie roll" art over art that nourishes like a "good apple."
Aimee Einfeld, an art teacher at a Grand Rapids–area Christian school, agrees with Becherer, but used the perceived failure as a teachable moment. "The average person looks at a piece of art for three seconds. Most of my students are no different—most often students see the flashy, gimmicky pieces and love them immediately because they're big." To challenge her students, she takes them to ArtPrize and asks each one to "befriend" one piece of art—study it, sketch it, even talk to the artist about it. "I hope that our interactions with the artists, seeing 'good,' 'bad,' and 'mediocre' art, will broaden their horizons and spark their curiosity," she said.
An event that presents a framework and relies on its participants to fill in the content takes a lot of risks. In the case of ArtPrize, it risks earning scorn from the community of art critics and devolving into what some already call "Artsandcraftsprize."
But as an artist, Reed thinks the risk might be worth it: "We need to see this as an educational process that's defining a community's view of art, as something that's closing the discrepancy between art critics and the public." Fridsma agrees. "I think it's leading to a more educated art viewer. When this first started, the art critics said, 'What does the public know about art?' Well, that's kind of the point. We'll help educate them about it."
Few venues provide as deep—or compelling—an education about art as "SiTE:LAB," the moving venue that in 2011 transformed the abandoned building at city center. This year it's conducting a similar experiment with Grand Rapids' abandoned public museum. Alois Kronschlaeger, a Brooklyn artist who last year created an architectural sculpture that cut large holes through three ceilings to span from basement to rooftop, is back transforming space again. His 2012 piece, "Habitat," builds modern architectural elements into existing dioramas of natural landscapes and old taxidermy specimens (the mountain lion still looks every bit as scary as it did in 1941 when it was installed) to create a feeling of invasion and disruption. The focal point of the large installation? A 20-foot mirror/platform that allows the viewer to stand in the middle of the old moose exhibit (the moose is now on display at the new public museum). Standing on the platform where the moose once stood, the viewer becomes the exhibit, the art.
And that, perhaps, is the beauty of ArtPrize in what one GQ writer recently called a "churchy," "flyover-country backwater" like Grand Rapids. Ordinary people get to figure out why a vintage, stuffed mountain lion ensconced in sculpted berber is important for thriving in modern times. And if you pay attention to what is unfolding, you see people themselves, just like the buildings and the city as a whole, changing. Even, in some cases, being made new.
Allison R. Graff is a freelance writer based in Grand Rapids. She also works as a writer and editor for Calvin College's enrollment communications office.
MORE FROM CHRISTIANITY TODAY