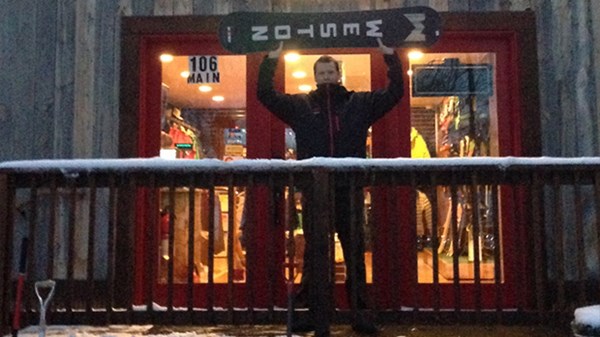 Doing an Inverted 180 on Colorado's Dead Forests
How Barry Clark saw opportunity for beauty and business in his destroyed landscape.
3.11.13
The drive up Interstate 70 through the Rocky Mountains is almost apocalyptic, the sprawling forests lining the highway appearing lifeless. The mighty lodgepole pines normally paint a grandiose evergreen backdrop, but today they stand dead in their tracks. Foresters call the killing of Colorado's pines in recent years a "catastrophic event."
But fire is not the culprit. Pine beetles consumed millions of acres of Colorado's pine trees over the past ten years. With their food source now mostly depleted, the beetles are gone, but a visible reminder of their feasting remains.
I-70 spans the Rocky Mountains, guiding visitors to Colorado's charming ski towns. Outdoor enthusiasts the world over gape at the devastation caused by the pine beetles. But Barry Clark, who has traversed this highway weekly for over 25 years, sees more than ruin.
Clark's home is the forest. His grew up burrowed in the heart of the Pacific Northwest, among the region's great cedars and Douglas firs. During his college years, he worked at a sawmill, sharpening his passions for craftsmanship and woodworking.
The lifeless Colorado pines inspired Clark to create Weston Snowboards, a company building snowboards out of the very trees killed by the beetles.
"I saw loggers hauling all the dead trees off the mountain and thought, I have to do something about this," Clark says. "I've always been a wood geek. Starting this company was an opportunity to do something I've always dreamed about."
Clark has founded and run a number of technology companies over the years, but Weston Snowboards falls at the intersection of Clark's core enthusiasms: snowboarding, woodworking, and community.
Weston Snowboards is in its infancy, a classic American small business. Clark has just a few employees and is still testing out his first product lines, but he has bold ambitions: to be the world's most-sustainable snowboard company.
The seed that grew to Weston Snowboards was planted on a ski lift in mid-2012. While Clark rode up the lift, a man in his 70s told Clark how his family had vacationed in the mountains for decades. He said that how skiing and snowboarding brought his entire family together in a way nothing else could.
MORE FROM CHRISTIANITY TODAY