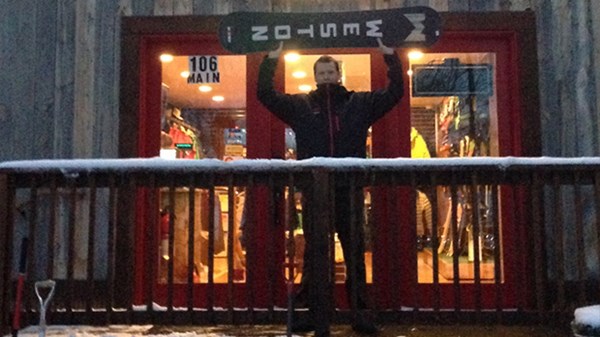 Doing an Inverted 180 on Colorado's Dead Forests
How Barry Clark saw opportunity for beauty and business in his destroyed landscape.
3.11.13
The drive up Interstate 70 through the Rocky Mountains is almost apocalyptic, the sprawling forests lining the highway appearing lifeless. The mighty lodgepole pines normally paint a grandiose evergreen backdrop, but today they stand dead in their tracks. Foresters call the killing of Colorado's pines in recent years a "catastrophic event."
But fire is not the culprit. Pine beetles consumed millions of acres of Colorado's pine trees over the past ten years. With their food source now mostly depleted, the beetles are gone, but a visible reminder of their feasting remains.
I-70 spans the Rocky Mountains, guiding visitors to Colorado's charming ski towns. Outdoor enthusiasts the world over gape at the devastation caused by the pine beetles. But Barry Clark, who has traversed this highway weekly for over 25 years, sees more than ruin.
Clark's home is the forest. His grew up burrowed in the heart of the Pacific Northwest, among the region's great cedars and Douglas firs. During his college years, he worked at a sawmill, sharpening his passions for craftsmanship and woodworking.
The lifeless Colorado pines inspired Clark to create Weston Snowboards, a company building snowboards out of the very trees killed by the beetles.
"I saw loggers hauling all the dead trees off the mountain and thought, I have to do something about this," Clark says. "I've always been a wood geek. Starting this company was an opportunity to do something I've always dreamed about."
Clark has founded and run a number of technology companies over the years, but Weston Snowboards falls at the intersection of Clark's core enthusiasms: snowboarding, woodworking, and community.
Weston Snowboards is in its infancy, a classic American small business. Clark has just a few employees and is still testing out his first product lines, but he has bold ambitions: to be the world's most-sustainable snowboard company.
The seed that grew to Weston Snowboards was planted on a ski lift in mid-2012. While Clark rode up the lift, a man in his 70s told Clark how his family had vacationed in the mountains for decades. He said that how skiing and snowboarding brought his entire family together in a way nothing else could.
"I took that conversation to heart," said Clark, who founded the company shortly after. "I think God smiles when he sees us enjoying his creation. Weston Snowboards helps people connect with nature, and the beauty of nature always points people to the Creator."
One might expect dead wood to be the last material a woodworker would want, but kill-beetle pine is surprisingly beautiful, flecked with sapphire and emerald hues. Clark pairs the pine with traditional plastic casing and hydraulically presses the layers together, resulting in striking combinations.
Clark's mentor is 75-year-old Bill Dodder, also an accomplished entrepreneur and craftsman. In the late 1970s, Dodder planted a church and physically constructed their worship space.
He designed his church after visiting a cathedral in northern Colorado. Its breathtaking design and intricate stonework inspired Dodder to sketch a blueprint. Soon thereafter, he mixed the mortar and laid the first stones of his church.
"I have always been enamored with architecture," Dodder shared. "I had a vision to construct a building that when you walked into the chapel, you just felt like worshiping."
Tens of thousands have worshiped in the little stone church, and Woodman Valley Chapel is now one of the largest churches in all of Colorado. Dodder encouraged Clark to pursue his dream to create Weston Snowboards.
Clark believes pastors struggle to relate to businesspeople within their churches. But for Clark, the way Dodder supports him in his business is not all that complicated.
"He's an encourager," Clark shared. "But he's not just affirming in my relationship with God, but in all my endeavors."
Dodder does more than encourage. He lovingly prods. And he loves stoking the creative coals within entrepreneurs. When Clark approached Dodder with his idea to create the world's most sustainable snowboard company, Dodder didn't hold back.
"You need to follow your passion," Dodder said confidently. "Life is too short not to do what you want to do. You need to leave your children legacies of adventure . . . of being passionate about life. You can grow up making a living, or you can really enjoy what you do. Why wouldn't you pursue an adventure if God's given you the capacity to do so?"
Connecting to Beauty
Clark, his wife, and their two boys—who both know how to work the company's cash registers—moved from their suburban Denver community of over two decades to Minturn, a blue-collar mining town near Vail. Minturn is quintessential Colorado, sitting just off the rocky banks of Eagle River.
Clark's family loves Minturn's charm and knew it was the right town for Weston's flagship headquarters. Clark purchased and refurbished a 100-year-old building in the town's center, cladding the façade with repurposed, weathered fence slats. The shop acts more like a community center for local snowboard enthusiasts than a retail store.
"We stand behind our products," Clark said. "I couldn't put up even one shingle in the Vail Valley if I didn't. Our customers visit our shop and see me here. I can't in good conscience design a snowboard that's not incredible. The good and the bad about being in an ingrained mountain town is that you will know in short order if your product is shoddy."
Manufacturing snowboards demands precise engineering. Even minor tweaks to the materials or process can completely alter the snowboarder's experience. Clark believes using American manufacturers allows him to remain close to his product and nimble with improvements. Weston Snowboards integrates customer feedback almost instantly and puts the best customer suggestions to work.
Clark believes beauty is important to his snowboards as well. The pine beetle wood demands little embellishments. The natural coloring and rich grains paint an inspiring picture. Clark believes the unadulterated wood grains stand on their own, trumping any graphics he could design to mask them. Though they sell a whole range of boards, the all-natural Beetle Kill Board is his favorite product.
Michael Romney, an aspiring Paralympic athlete in the area, said, "I've been riding my Beetle Kill and can't say enough good things about it. I feel like I can throw around this board all over the mountain with confidence."
Clark believes God stirs our hearts by the beauty around us, whether in the Colorado backcountry or in a well crafted snowboard.
"Within us all," Clark says, "is an innate, God-inspired longing to connect with nature. We hope to connect people to the beauty of the world around us."
For Clark, the snowboard industry creates opportunities for families to connect with one another. But it's more than family fun. It's about redeeming what is damaged. Pine beetles swept through Colorado's mountains, leaving little alive in their wake. Weston Snowboards breathes new life into dead pines.
Chris Horst is director of development at HOPE International. He has written for This Is Our City about manufacturers, mattress sellers, and solar product designers, all working for the common good in Denver, where he lives with his family. Chris blogs at Smorgasblurb, and you can connect with him on Twitter, @chrishorst.
MORE FROM CHRISTIANITY TODAY