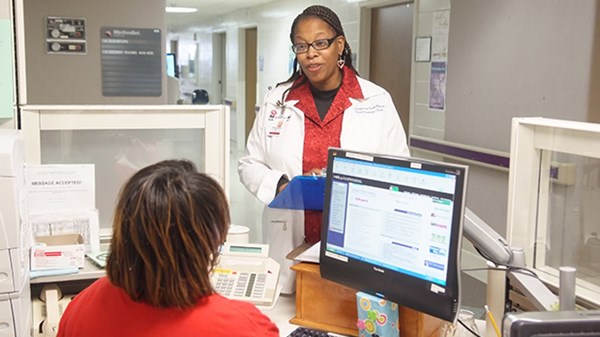 Faith Healing: How Local Churches Are Stepping into Health Care's Gaps
The innovative Congregational Health Network in Memphis relies on local congregations to take care of their members.
6.29.12
Knowledge was all Memphian Bill* needed after his wife passed away. An elderly churchgoer with congestive heart failure, Bill routinely overused the hospital, bouncing in and out of the ER eight times in one year. But once CHN started, his church's volunteer liaison started showing up at his home, teaching him how to lose weight and monitor his sodium intake. With her guidance, he began using the hospital less, and this year, he has yet to visit at all. Such stories are what Teresa Cutts, director of research for CHN, calls a "win win," and very common: The hospitals are saving money, and the citizens are getting healthier and more connected to their church community.
Miguel*, on the other hand, needed more than knowledge. In 2010 the 40-year-old patient arrived at Methodist North to learn that he had end-stage metastatic cancer. He desired to return to his native Honduras to spend his last days with his family, but he lacked the money and the stable health for air travel. It looked like he would die in Memphis, until navigator Rafael Miranda stepped in. Miranda worked tirelessly to make Miguel's travel arrangements and agreed to accompany him on the six-hour flight home. When promised church funds fell through, Miranda paid for Miguel's plane ticket (he has since been reimbursed), and arrived with Miguel greeted by his wife and eight children. Miguel died with dignity, surrounded by his loved ones.
CHN's success over six years goes to show, in part, that creating a sustainable health care model in the United States will require more than upping coverage for the underinsured. Shorb notes that President Obama's health-care plan deals mostly with coverage expansion, but underplays innovative plans for preventing health problems. "The majority of what was passed is expansion of Medicaid to cover more of the poor," says Shorb. "But what didn't happen was implementing strategies to improve health status and reduce the total cost of health care in our society." (He estimates health-care costs now run at close to 18 percent of the GDP.)
MORE FROM CHRISTIANITY TODAY