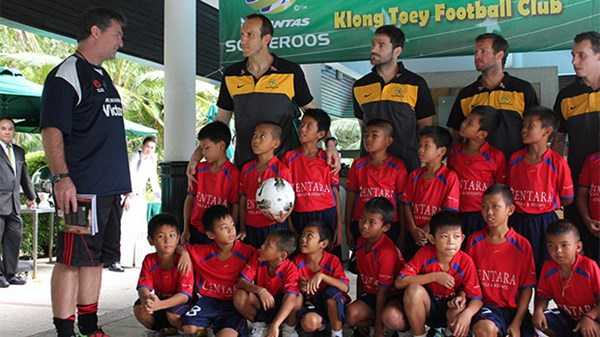 Soccer and Salvation in Thailand's Largest Slum
How Australia native Ash Barker is seeking stability in one incredibly instable Bangkok slum.
6.8.12
This story, for Barker, epitomizes the new ways of Christian faithfulness that urban slum life demands. He writes:
Many aspects of the incarnational approach to transformation appear in this one story: Christian neighborliness; mutual sharing of life; authentic hospitality; openness to grasp opportunities; answered prayer and spiritual conversations; Bible reading with friends; varieties of people and personalities over time; participatory projects and an authentic approach to church. Not least was that Jim was able to meet people who made space in their lives to intentionally join, follow and participate with what God was doing in the slum. This included what God was doing in and through Jim.
None of these dimensions would have been possible to experience had they only been done instantly, individually or without risk. Jim's transformation in the Spirit involved lots of small, loving actions though Christ in community—these can create a kind of life-building momentum that is irresistible.
Indeed, our attentiveness to the virtues that Barker names here in our own contexts—urban or otherwise—will undoubtedly transform us as Jim has been transformed and as the Barker family continues to be transformed through their work in Klong Toey.
C. Christopher Smith is a member of Englewood Christian Church on Indy's Near Eastside and editor of The Englewood Review of Books. Author of the recently published eBook The Virtue of Dialogue (Patheos Press 2012), he is cowriting a book titled Slow Church (forthcoming IVP/Likewise). He has written for This Is Our City about Indianapolis and his church there.
MORE FROM CHRISTIANITY TODAY