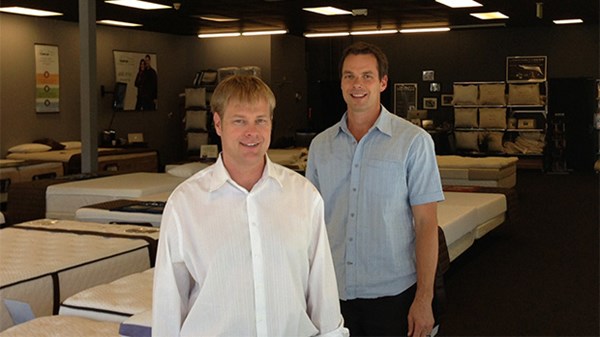 The Moral Mattress Kings of Denver
Two former campus ministers bring rest and integrity to a culture starving for a good night's sleep.
11.12.12
A "restful buying experience."
Few American consumers would ever think to describe mattress shopping this way. In fact, if you have been mattress shopping recently, restful is probably the last word that comes to mind.
"This is one of the sleaziest industries in the world," says business owner Ethan Rietema. "Customers are treated so poorly. Stores beat you up, trying to get as much money as they can, but they couldn't care less if you get the right bed."
Rietema and Steve Van Diest, both former campus ministers, are bringing rest—and integrity—back to a business largely devoid of it. Four years ago, a Christian entrepreneur invited the Colorado natives to begin deploying their relational abilities in strip malls rather than on college campuses. They now co-own three Urban Mattress stores in Denver and have franchised four more. And, they argue, their current work is just as important as their former ministry.
Neither Van Diest nor Rietema was searching for a business opportunity, and they certainly never envisioned a career in mattresses. They wondered how to live out their faith in a "secular" environment, and had pastor friends question the vibrancy of their faith when they made the leap.
But then they started learning about bed sales in the United States. On average, they learned, people spend one third of their lives asleep. They began to discover just how much a good mattress matters.
"I don't have to do mental gymnastics with the product I sell," Van Diest says. "It's not a frivolous item. It's not an image-conscious product. People come here after being worn down by horrible sleep, replete with aches and pain. If we can provide them with a small glimpse of grace for a third of their lives, that's kingdom work. That matters to God."
Open in fast-paced environments like Denver, Austin, and Washington, D.C., Urban Mattress serves customers desperate for a good night's sleep. Van Diest and Rietema point to a wide swath of research illuminating how a good night's sleep increases weight loss, decreases stress, and broadly increases well being. They note God's institution of rest as an indicator of its importance. Since our Creator built Sabbath into his schedule, Christians should care enough to think about literal rest in a culture deprived of it.
MORE FROM CHRISTIANITY TODAY