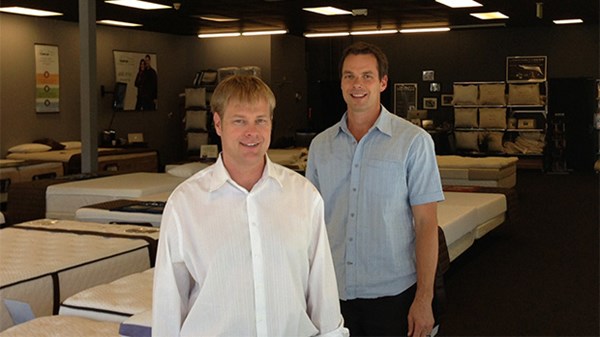 The Moral Mattress Kings of Denver
Two former campus ministers bring rest and integrity to a culture starving for a good night's sleep.
11.12.12
"In our culture, a good night's sleep is a precious commodity," Van Diest says. "And we want to be the very best at providing it."
They often find their values challenged. Chief among their concerns are the many ways that consumers are swindled by industry leaders. It is normative, they state, for mattress companies to create unique product names for each store franchise, a tactic that prohibits consumers from comparison shopping. Mattress stores also consistently raise prices substantially before holiday weekends, then offer "blowout sales" that simply bring prices back to normal. And the typical sales approach is to badger consumers into buying as expensive a mattress as quickly as possible, with little regard to what the consumer wants or needs.
Urban Mattress, by contrast, offers consistent and fair prices that promote transparency and honesty. While Urban Mattress customers won't experience a "massive clearance" sale, they will find a fair-priced bed within their desired budget.
An elderly customer named Zoe, for example, came to their Denver store a few years ago in the midst of several debilitating health issues. Rietema sold her a bed while adhering to the Urban Mattress values. A few months later, Zoe returned to the store.
"She said, 'You treated me so kindly and with such dignity when I was sick, I'm putting you in my will,'" Rietema recounted. "She felt that because we treated her with such respect, she wanted to include us in her estate planning."
When Van Diest and Rietema entered business together, they were unsure how their careers in ministry would transfer. Their former job meant seeking out significant conversations with college students. What they found in their new career surprised them.
MORE FROM CHRISTIANITY TODAY