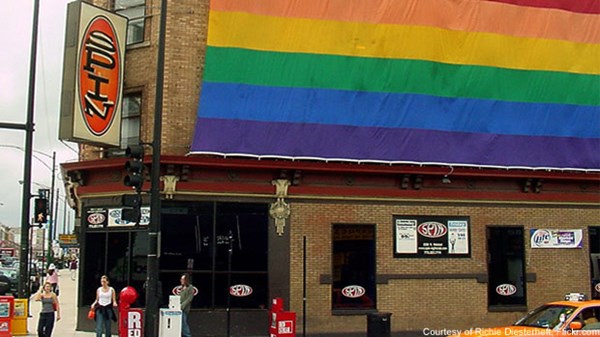 Revisiting Boystown
As its founder transitions, Emmaus Ministries continues to serve male prostitutes in Chicago.
11.3.11
Courtesy of puroticorico, Flickr.com, via Creative Commons.
This week, we have highlighted the good work Christians are doing in Portland, Oregon, to eradicate sex slavery and serve trafficked victims. But this is not the first—or last—time Christianity Today has covered ministry to those trapped in the sex industry. In 2007, Jeremy Schneider gave us a "glimpse into the world of male prostitution" with "The Men of Boystown." "While working with Chicago-based Emmaus Ministries and studying hustler culture, I uncovered many of the complexities of male prostitution," wrote Schneider. "I am not an expert; I still have much to learn from the men with whom I've eaten hot dogs and walked the streets of Boystown. But I gleaned a few insights and experiences that have given me a far better understanding of the men who become victims in this subculture."
Emmaus has spent the past two decades reaching out to men in prostitution, a demographic marginalized even in the homeless community. Earlier this year, Emmaus announced that its founder, John Green, would be permanently stepping down as executive director (while remaining active in an emeritus, adviser role). Green is now director of Catholic Charities Community Services in Summit County, Ohio. Under the leadership of Jonathan Hancock, executive director since 2009, Emmaus continues to "build relationships of trust with these men, working together to help them get off the streets and to cultivate a life-transforming relationship with Jesus Christ."
The following section from Schneider's 2007 report focuses on how Christians are bringing the gospel to male prostitutes in Chicago. Yet the oldest profession on earth exists in every city, big and small. As you read this, ask: How are Christians engaging the victims of sex slavery in your own city?
" … the sometimes glamorous pretenses of hustling conceal a much darker reality. Many hustlers are boys who have run away from unstable home situations where there was physical, emotional, or sexual abuse, or where there were family conflicts over the sexuality of gay-identified youth. Research has shown a high frequency of hustlers who come from broken homes, homes with indifference or lack of affection, and hostile or abusive family members. One study in D.C. found that only 27 percent of young hustlers came from homes with both parents present; another national study found that only 18 percent had an intact family, and even when an apparently intact family existed, the relationships were broken. Most studies concur that fathers, more often than mothers, are either absent or ineffective.
MORE FROM CHRISTIANITY TODAY