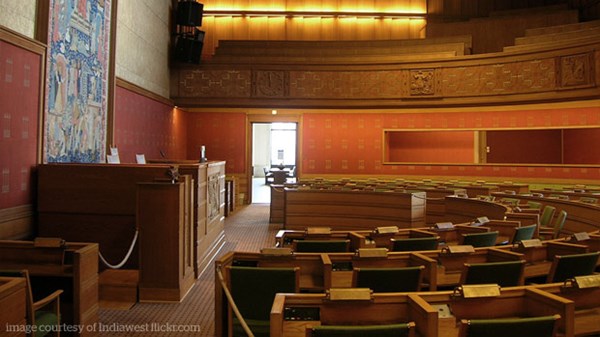 Celebrating the Unglamorous, Effective Work of Local Politics
Political scientist Amy Black says a few concerned citizens in a particular neighborhood can have far greater impact than checking a box on November 2.
1.16.12
Assuming you haven't been hiding under a rock for the past six months, chances are you can name most of the candidates for the Republican Party's presidential nominee. But can you give the name of your city's treasurer—the person appointed to keep track of all bank accounts, income, and taxes, including your own? What about your local school board president? Your mayor?
Political scientist Amy E. Black believes that Christians, like most Americans, have underestimated the power of local governments to effect real, life-changing change for neighborhoods and neighbors. Local politics "offers us the most direct connection to decision makers and addresses many basic, life-and-death issues such as access to food, shelter, and other necessities," says the Wheaton College professor, noting that Christians can have "more immediate impact" in their cities due to the smaller scale. "A targeted e-mail campaign from dozens of church members can lead to quick results."
Black, who recently penned a Christianity Today cover story about the 2012 election, talked with City editorial director Katelyn Beaty about how Christians should proceed when they disagree about what's best for their community, and names the area of public life that most needs attention and reform.
For many, "local politics" brings to mind images of going to city hall to protest a new parking code, or another flyer in the mail encouraging recipients to reelect the woman who's been county treasurer for 10 years. In other words, local politics seems inconsequential, especially measured against national debates on immigration reform and the debt ceiling crisis. Why should Christians be invested in local politics? And what does that investment look like?
The work of local governments most directly affects our lives and best meets the needs of the community. In most parts of the United States, it is easy to take local government services for granted because we have grown so accustomed to having basic needs met. We think little about our easy access to clean drinking water, public utilities, police and fire protection, paved roads, and sewer systems. Much of the work of local government is the routine, day-to-day provision of these basic services. It isn't exciting, but it is essential.
MORE FROM CHRISTIANITY TODAY