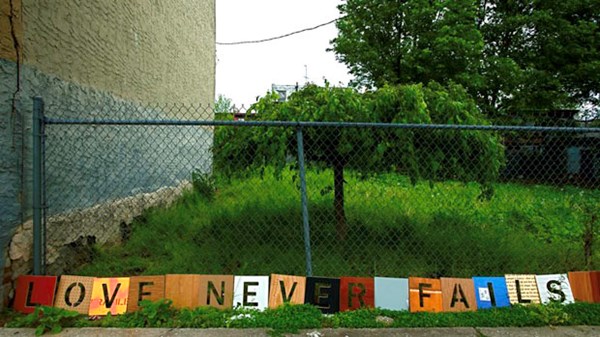 The Word on the Street in Manhattan and Philadelphia
NYC artist Gene Schmidt brings the words of Zechariah and 1 Corinthians to two urban landscapes.
1.6.12
How does public art help bring flourishing to a city?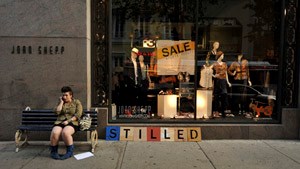 I suppose those opportunities for meditating on important things that I mentioned before can be useful on the way to flourishing. I want my city, and all cities, to flourish, but I think there is mostly hard work and weeping on the way to getting there. And when I say hard work, I don't mean my little art projects. I mean truly hard work done by many people trying to make their cities better. I had the privilege of meeting quite a few of those people on my way through Philadelphia.
How do you hope people will engage with your public art?
I try to leave it very open for people to engage with, or not, as they like. I can't control how people respond, especially when I'm doing something out on the streets, and embracing that lack of control keeps the project more alive for me. When I'm leaning the words "love is patient, love is kind" against a building, and the owner comes out yelling and cursing at me, it's a much more valuable love lesson for me than a pat on the back.
Did you get to see the respective communities in Philadelphia and NYC gather around your work or show direct engagement with it? If so, what did you experience with that? Any cool stories of people engaging with your work that left you, as the artist, inspired or encouraged?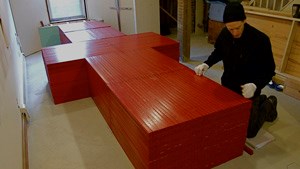 Other than two or three negative experiences, the people I interacted with in Philadelphia were very welcoming. One of my favorite things about these projects is the spontaneous or random moment. One such moment from Manhattan Measure: I was measuring north to south through a grassy area with big shade trees in Central Park on a beautiful July day. Two little children, a boy and a girl, were playing there. As I came by, laying out a row of 50 yardsticks, they became very curious and started following me. When I went back to pick up the yardsticks they immediately, without asking, ran in front of me and began picking up armloads of yardsticks and bringing them to me. I had a very efficient system for picking up the yardsticks in the right order and packing them neatly back in my cart. These kids were a complete wrench in my machine, but a really joyful, beautiful wrench, and the extra half hour I spent reorganizing my yardsticks was totally worth it.
MORE FROM CHRISTIANITY TODAY