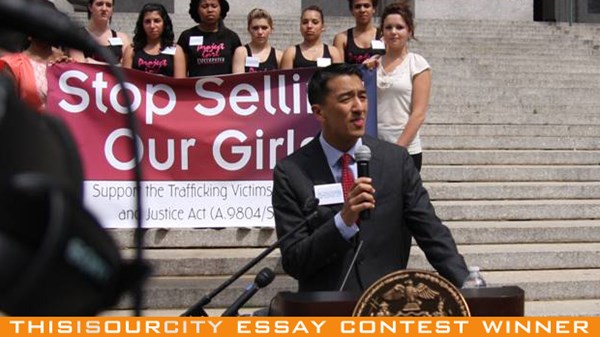 An Unlikely Defender of Trafficked Women
How Jimmy Lee went from childhood bully to director of Restore NYC.
8.28.13
As a child, Jimmy Lee didn't seem too interested in justice. By age 9, he had figured out how to win his classroom's monthly motivational prize through a combination of cheating, stealing, and smarts. In 7th grade, he and his fellow athlete-friends would regularly morph into bullies, selecting weaker boys and girls, then knocking down their books and teasing them.
Fast-forward several decades, to a solitary, pre-dawn morning in April 2012. Lee sat down in his usual chair for devotions, thinking about a different segment of the weak and vulnerable. Just hours earlier, he had been introduced as the new executive director of Restore NYC, a faith-based organization that serves foreign nationals who are victims of sex trafficking in New York City. As he thought about what it must have been like for these women who have experienced horrific and repeated abuse, sometimes 30 times a day for years on end, the former aggressor found his defenses crumbling, and he wept.
"I sensed God was asking me to enter into their painful experience, to feel what he feels when this kind of abuse occurs," Lee says. "To feel his sadness as well as his hunger for righteousness, justice, and restoration."
Lee's story is one of redemption, of a child with a limited moral compass transformed into a grown man pursuing justice, freedom, and equality for the most at-risk members of society.
From Aggressor to Advocate
Two events left indelible imprints on Lee and undoubtedly helped to shift this former child bully into an advocate for others. The first was his conversion to Christianity in early high school. The second was his decision to spend the summer of 1994 in South Africa, right after the anti-apartheid movement had reached its zenith with the election of Nelson Mandela as president. Witnessing history in the making had long-lasting ramifications for Lee: "I knew from then on that I ultimately wanted to do something with my life related to pursuing economic and social justice," he says.
His time in South Africa also taught him about the importance of leveraging the political process to enact change. For this reason, Lee invests significant time and energy into advocating for policy decisions that will aid sex-trafficking victims. He is no stranger to press conferences and meetings with state and city officials. And the impact of Lee's involvement in the political realm has not just helped Restore NYC, according Dorchen Leidholdt, who leads the statewide non-governmental organization Coalition Against Trafficking in Women.
"Jimmy has changed the way that key players in the system look at the issue of trafficking," Leidholdt says. "He made the decision to formally bring Restore into the work of the New York State Anti-Trafficking Coalition and to join our campaign, which has been pivotal. He takes advantage of all the opportunities to advocate for trafficking victims and survivors. And male legislators can hear from Lee in a way they cannot hear from the rest of us. He demonstrates that this is not just a women's issue."
'Male legislators can hear from Lee in a way they cannot hear from the rest of us. He demonstrates that this is not just a women's issue.' ~ Dorchen Leidholdt, Coalition Against Trafficking in Women
Lee's desire to pursue justice for trafficking victims also informs his desire to build and deepen relationships with key players in the legal system and governmental agencies, such as the Department of Homeland Security and the Federal Bureau of Investigation (FBI). As a result, judges, attorneys, and law enforcement officials often refer to Restore NYC foreign nationals who have been arrested but who may actually be victims. Before Restore's launch in 2009, no other organization in the New York City region was focusing solely on this segment of overlooked victims. Yet these are the women who may be the most vulnerable due to their immigrant status. As the son of Korean immigrants, Lee understands this.
"I have a heart for women and girls who come to this country from a foreign land," says Lee. "In postwar South Korea, my mom had no deeper longing than to make it to the U.S.
"There are millions of girls and young women from abroad who dream of coming to America, who come to New York to pursue their dreams. But when our country instead becomes a prison in which they are not free to love or be loved, I feel deep compassion towards them, and an anger towards the injustices they have endured."
Virtues for the Common Good
Lee is sensitive to the fact that he is a man leading an organization that addresses horrific injustices done by other men. One clear virtue that has helped him navigate this tricky landscape, noted by those who work with him, is humility.
"When you're in a meeting with Jimmy, you'll see that he is not one of those people who demands to be recognized or who to have his voice heard over others," Leidholdt says. "There is a humility that he brings that makes you realize in two seconds of talking with him that his advocacy is about service and about meeting the needs of others, especially those who are most marginalized."
When Lee visits one of Restore NYC's safe houses, which provide long-term shelter to victims, the residents sense this quality. "When he comes to the house, he is so kind to the residents," program manager Stella Sunwoo says. "They all know Jimmy is the boss, but he treats the house as if it is theirs, and he is the guest. He'll ask, 'Is it okay if I sit here?' He offers them nothing but respect. The survivors all love and admire him."
Lee's decision to attend All Angels' Church on the Upper West Side has influenced his reaching out to those on the margins. He chose All Angels in large part due to its socioeconomic diversity, then started attending the day after he moved to NYC for his first post-college job. "It was not a comfortable place for me at all the first couple of years," Lee admits. "But I knew that the mission and demographics of the local church I attended, and who I decided to build community with, would have a big impact on how I decided to live."
Eighteen years later, Lee remains a faithful member of the church and still attends the Sunday evening service. There, he has invested a great deal of his time and workplace expertise; half the evening attendees are homeless or in transition.
These virtues of perseverance and diligence also played a role in Restore's recent fundraising successes. In December 2012, Chase Bank ran a "Community Giving" contest on Facebook in which people voted for their favorite charities or nonprofits, with the winners receiving grants. More than 30,000 charities competed, and Lee took an aggressive stance with his staff, board, and volunteers about the program.
"I said that if we do this, we have to have a real plan and effectively execute on that plan. And that meant we all would need to do significant one-on-one outreach, that our 'sweat equity' would be the key to winning," Lee says. The result? Restore placed within the top 96 entrants. Winners each earned a $20,000 Chase Community Giving grant. "That was the first time I'd ever been so happy about placing 95th."
In addition to the grant, Restore was one of only 25 nonprofits highlighted in the American Giving Awards sponsored by Chase, broadcast on primetime television on NBC. "So our diligence led to our winning a grant and put us in a position to be highlighted on national television," Lee says. "It also raised our credibility so that those who might dismiss a young and smallish organization would take us seriously."
A Long Obedience
Despite the recent exposure Restore NYC has received, Lee has no illusions that the pursuit of healing and justice for the trafficking victims he seeks to serve will be quick or painless. "I've seen for myself that the road to justice is long," he says. "I appreciate the title phrase from Eugene Peterson's A Long Obedience in the Same Direction. Pursuing justice often means doing the same thing year after year, decade after decade."
And yet, Lee and the Restore NYC staff cling to large and small moments of victory. In Restore's office, a single room shared by all the staff together, a Post-It note rests on Lee's computer, written by a trafficking survivor. She had learned enough English in the ESL class that Restore provided to write to Lee: "God bless you. I am happy here," accompanied by a heart and a smiley face. For a man who was once a junior-high oppressor of others, the note is a visible reminder of how the Defender of the Weak can transform others to become the same.
Helen Lee (no relation to Jimmy Lee) is the author of The Missional Mom and the homeschooling mother of three boys. She and her family live in the Chicago area.
MORE FROM CHRISTIANITY TODAY