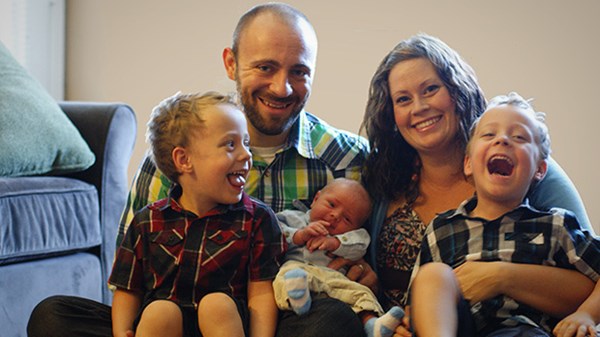 Loving the Loners, One Apartment at a Time
Chris and Bethany Priebe say Christians' greatest 'mission' in Phoenix may be relationship.
11.14.12
Along with most other Phoenix residents, in 2007 the Priebes watched the value of their home begin to plummet. They then learned the funding for Bethany's nonprofit job was ending. As they prayed about how to move forward with no home equity and an upcoming job loss, Bethany and Chris learned they were pregnant with twins. At 22 weeks, Bethany was hospitalized for six weeks and put on complete bed rest, with Chris sleeping on an adjacent makeshift cot. Faced with the risks to their babies as well as climbing medical bills, Chris thought, Maybe God is getting our attention. We should look at how we said we wanted to live.
Meanwhile, Bethany had heard about a faith-based nonprofit called Apartment Life, which places teams in apartments to serve complex managers by helping foster community. Within a week of applying, the Priebes were placed at Sage Stone and moved in in May 2009.
"We immediately felt more at home in the apartment than we did in our house, because our mindset was different," Bethany recalls. "Apartment Life was providing the accountability and support we needed to live how we wanted to live. God has blessed us so much, and we want to bless other people."
Apartment Life
A group of Christian businessmen who saw the potential for community in apartment complexes founded Apartment Life in 2000. Some were real-estate developers and investors, others had done outreach at low-income complexes. Pilot teams launched in Dallas, Phoenix, and Flagstaff, and are now in 13 major cities in nine states.
Apartment Life recruits, trains, and manages these teams, offering apartment management companies the value of retaining more residents who want to stay for the intentional community. A recent survey showed an increase in 3.5 renewals per month, supporting their statement that "reducing resident turnover significantly contributes to a property's bottom-line and maximizes investor returns." Complex managers gladly welcome Apartment Life teams, offsetting their living expenses in order to receive this added value.
MORE FROM CHRISTIANITY TODAY