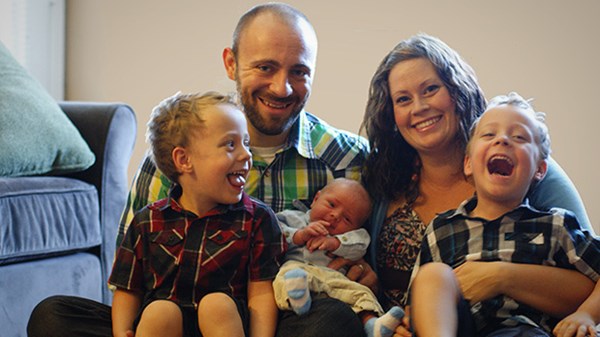 Loving the Loners, One Apartment at a Time
Chris and Bethany Priebe say Christians' greatest 'mission' in Phoenix may be relationship.
11.14.12
The housing assistance allows Bethany to stay at home with her children while planning events for neighbors. In addition to helping with such activities, Chris runs Big Mouth Presentations, a local nonprofit that brings motivational speakers to Phoenix public schools to dynamically teach character values. As a Phoenix area director, Tyler Staton encourages and supervises teams.
"I love receiving their monthly reports," he says. "The Priebes consistently go above and beyond our requirements. They carry groceries, get the mail or feed pets while residents are out of town, give rides, babysit, and host dinners. They genuinely care."
The Priebes have also hosted breakfasts, game nights, kids' craft nights, and popsicles by the pool. Their favorite activity during the months of 100-plus temperatures is to transform the Sage Stone golf cart into an ice cream cart. Decorating with balloons, signs and festive music, they drive through the parking lots handing out free ice cream. Chris admits half the fun is simply driving a golf cart.
A Normal Way to Live
An apartment complex is not the obvious living choice for families with twin toddlers and a newborn, or any family looking for relationships with neighbors. The Priebes wish they could send their kids out to play in a backyard, and that they did not have to constantly start over with new neighbors. They struggle to communicate with the Indian family living upstairs and are interrupted getting out of their car by the lonely talkative woman when they just want to get their children down for a nap. Sometimes, when trying to offer a friendly welcome, they hear from behind the door a whispered, "What do they want? Don't answer it!"
MORE FROM CHRISTIANITY TODAY