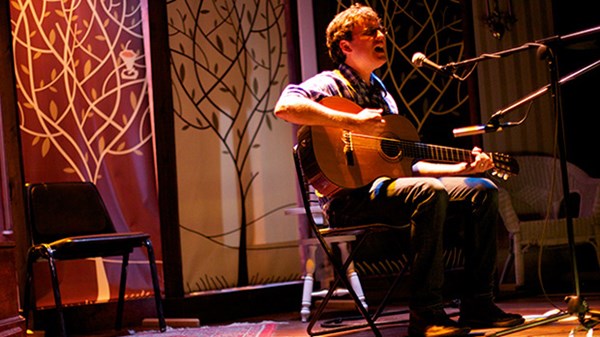 Not Your Typical Indie Music Scene: The Listening Room Speaks
What happens when a Richmond-based concert venue asks audiences to be completely silent.
7.3.12
The history of Richmond, Virginia, my beloved hometown, is not one of collaboration. If anything, our dark past has quieted us. We live honest lives of looking forward, never looking back. We have been branded with a forced forgetfulness of our history as the capital of the Confederacy, fearing our pride will disrespect. So over the past century, the suburbs have crawled and crawled, scratching the long fingers of subdivisions over the hills, across the borders of the town. And the city ever so slowly passed away, as the ominous cloud of fear and regret swept over the blocks. Buildings vacated, trash uncollected, industry dissolved.
Only over the past decade or so has life returned to the city. Revitalization efforts bring cross-sections of the populace together for a common hope. A turn is happening in my city, one where not only college students inhabit downtown, eat downtown, listen downtown. The divisions of the city are beginning to blur, lost in commonality and community; supported and purported by events and people who know no bounds.
One event in particular, the Listening Room, draws all corners of the city together. The show takes place every third Tuesday of the month, and much like any other show, there are two to three performances, breaks in between, and a large mingling crowd.
But this show has one important rule: There's no talking during performances. Before the performance, in between, and after is fine, but when the music is playing, there is silence, and there is respect.
Started in 2009 by a group named The Foundry—a team of musicians, record-label owners, and designers—The Listening Room brings people into appreciation of the independent music scene. Some of the group's members are involved in Richmond area churches and outreaches, some are not. Some play music, some are just listeners. Among them are Jonathan Vassar and his songbird wife, Antonia, local folk musicians with a faithful following. There is Chris Payne, web designer, record-label owner, and occasional keyboardist at Hope Church. There is Rob Jefferson, the jack-of-all-trades photographer and former short-term missionary. There is Christina Gleixner, the quixotic siren singer known for her sweet and humble spirit. And in this mix of backgrounds and experiences and talent, the team is unified in the vision of forging a prosperous local music community.
MORE FROM CHRISTIANITY TODAY