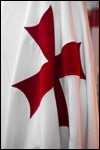 Lessons from the Crusades
What can Christians today learn from the moral chaos of the past?
Single Session Bible Study
Overview
One of the darkest eras in Christian history was the Crusades. This centuries-long series of wars involving Western Christians, Eastern Christians, Jews, and Muslims is often cited as incontrovertible evidence of the danger of religious belief, but the Crusades were hardly a simple battle between tolerance and terrorism. Motives were mixed on all sides, and the signs of the times yielded confusing messages.
What can Christians learn about human nature from looking at church history? What can we learn from the Crusades about doing the will of God? How do events of the past shape our lives today, particularly in the area of Christian-Muslim relations? These are the questions we'll explore in this study.
Table of Contents
SCRIPTURE: Numbers 14:18–23; 1 Samuel 26:5–11; 2 Samuel 12:9–12; Psalm 25; Psalm 103:8–12; Matthew 6:14–15; Mark 3:28; 1 Corinthians 10:1–13; 1 Corinthians 11:28–32; 1 John 2:1–2
LEADER'S GUIDE
• Identify the Current Issue
• Discover the Eternal Principles
—Teaching point one: The history of God's people is full of saints and sinners—and we can learn from all of them.
—Teaching point two: While morally complicated situations make it difficult to discern God's will, he never leaves us without guidance.
—Teaching point three: God's forgiveness does not free his people from all of the consequences of past sins.
• Apply Your Findings
• Recommended Resources
ARTICLE FROM CHRISTIANITY TODAY
• "The Muslim Defense,"Hadia Dajani-Shakeel, CHRISTIAN HISTORY, Issue 40
Total number of pages—
Lessons from the Crusades