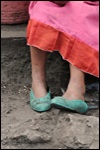 Poverty and the Bible
Effectiveness and faithfulness must characterize our response.
Single Session Bible Study
Overview
In recent decades, global poverty rates have come crashing down. The Millennial Development Goal of cutting poverty in half by 2015 appears likely to be met six years early. The Bible has much to say about our responsibility to the poor. We are to focus on stewardship—the effective use of the Lord's resources for the good of people—and also on faithfulness, regardless of results.
Table of Contents
SCRIPTURE: Matthew 6:1-4; 25:14-30; Mark 14:3-9; James 2:2-6; Revelation 7:9-17
LEADER'S GUIDE
• Identify the Current Issue
• Discover the Eternal Principles
—Teaching point one: True charity does not seek rewards from men but from God.
—Teaching point two: We will give an account for how we use the Lord's resources.
—Teaching point three: Not every use of God's money must pass a standard cost-benefit test, nor must it be done in secret.
—Teaching point four: The church has a special calling to help poor people.
—Teaching point five: Poverty will end when God ends it.
• Apply Your Findings
• Additional Resources
ARTICLE FROM CHRISTIANITY TODAY
• "Cost-Effective Compassion" and "A Most Personal Touch"
Total number of pages—
Poverty and the Bible