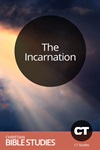 The Incarnation
What it means that the Word was made flesh.
Single Session Bible Study
Overview
Christianity, while inspiring some of the greatest religious and philosophical thinkers in history, isn't primarily a philosophy. Nor is it simply a means to come into contact with God, though Christians down through the ages have done just that. Instead, Christianity is first and foremost news—good news, to be sure—but news nonetheless. It is about what God has done to reach down to save weak, helpless sinners such as we. Even more specifically, it is about a God who did this by becoming one of us. This study includes discussion of "What Is This Word?" by N. T. Wright, Christianity Today, 2006.
Table of Contents
SCRIPTURE: Isaiah 55:8–9; John 1:1–14; 10:11–38; 14:1–6; 16:12–15
LEADER'S GUIDE
• Identify the Current Issue
• Discover the Eternal Principles
—Teaching point one: God primarily has made himself known, not in a private religious experience or in a philosophical argument, but in a public announcement embodied in Jesus Christ.
—Teaching point two: Jesus'oneness with the Father is something that must be accepted or rejected—there is no middle ground. We can focus on the proper priorities.
—Teaching point three: We don't climb up to God to be saved; he must climb down to us. We get to enjoy Christ's victory amid life's difficulties.
—Teaching point four: We cannot "think our way" to God.
—Teaching point five: The Holy Spirit convinces us of the good news about Christ's salvation.
• Apply Your Findings
• Additional Resources
ARTICLE FROM CHRISTIANITY TODAY
• "What Is This Word?" by N. T. Wright, Christianity Today, 2006.
Total number of pages: 11
The Incarnation