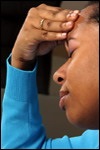 The Stress of Change
How can we learn to deal with the changes that come to most of us?
Single Session Bible Study
Overview
There are many life-changing events that are stressful to almost everyone. A few that the majority of people experience are the death of a loved one, marriage, pregnancy, buying a house, and even Christmas. This study will look at how to deal with these inevitable changes.
Table of Contents
SCRIPTURE: Numbers 23:19; 1 Samuel 15:29; Job 7:6; 19:25; Psalm 33:4–11; Isaiah 46:8–13; Malachi 3:6; Luke 17:5; 18:1–8; Hebrews 6:17–19; 11:1, 39–40; 13:8; 1 Peter 1:3–4
LEADER'S GUIDE
• Identify the Current Issue
• Discover the Eternal Principles
—Teaching point one: God does not change.
—Teaching point two: God is always in control, which gives us hope.
—Teaching point three: Faith in a God who does not change reduces our stress.
—Teaching point four: God helps us deal with the stress of change.
• Apply Your Findings
• Recommended Resources
Total number of pages—11
The Stress of Change
SmallGroups.com offers a diverse set of adaptable training tools for small group models that can be customized to a church's unique needs.
14-Day Free Trial
Get complete access free for 14 days.
Featured Training Tools:

Connect People into Small Groups
A la carte price:
Theological Discussions for Everyone
A la carte price: