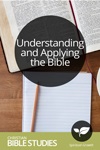 Understanding and Applying the Bible
Tips for understanding different genres of Scripture
8 Session Bible Study
Overview
We grow in relationship with God as we see him in a variety of situations. How did God relate to Abraham in his walk of faith, to Joseph in the pit or in prison, to Moses in his disillusionment, or to the nation of Israel as she walked in the midst of intimidating neighbors? How did Jesus react to children? How did he relate to the Pharisees? How did he talk to God the Father in the garden? What did he say to those who nailed him to a cross?
We want to see not only the songs God's people write (Psalms), the guidelines they live by (Proverbs), but also historical accounts of how God has reacted and interacted with his people (historical books, Gospels, and prophetic writings). It's important to know what kind of book we are reading so that we can interpret and apply it correctly to our lives.
That is what we are seeking to do in this Spiritual Formation e-Booklet: to help individuals learn how to get the most out of reading and studying the Bible with the goal of getting to know God better. Your tools will be a Bible, a pencil or pen, and this packet to help you ask questions of different passages.
Introduction
by Dave DeLuca
Leader's Guide
How to use "Understanding and Applying the Bible" for a group study
Articles
Understanding Psalms
Understanding Proverbs
Understanding the Historical Books
Understanding the Prophets
Understanding the Gospels
Understanding the Epistles
Understanding Timothy and Titus
Understanding Revelation
Total number of pages - 33 pages
Understanding and Applying the Bible
SmallGroups.com offers a diverse set of adaptable training tools for small group models that can be customized to a church's unique needs.
14-Day Free Trial
Get complete access free for 14 days.
Featured Training Tools:

Connect People into Small Groups
A la carte price:
Theological Discussions for Everyone
A la carte price: